After about 6 weeks off from modeling, it's time to get back at it. Lately I've been flipping between props and jets, so since my last build was the 1/32 Trumpeter P-38L Lightning, I think I'll do the 1/32 Tamiya F-15C next, but as an Aggressor. There are a number of reasons for this decision as follows:

1) It's not a Trumpeter kit. After two of them in a row (P-38L and A-10C) over the span of 28 months, I've had enough punishment for a while!

2) My first model when I re-entered the hobby about 9 years ago was a 1/32 Revell F-15D. It was really bad, but it did get me hooked into modeling once again and I'd like to see what I can do with a Big Eagle now. I bought this kit right after the Revell build and it has been staring at me ever since. Time to whip it together, although my usual time frame per model is 12-14 months.

3) What I'd really like to build is the Israeli F-15I Ra'am, but I looked into it and although I have the IsraDecal decals and the Wolfpack conversion set, I need to do a LOT of modifications, especially in the cockpit. After the Trumpeter kits, I need a bit of a conversion holiday and this build will help me for when I do the Ra'am later.

4) Why an Aggressor? I'm a little tired of grey jets and it just so happens that I have taken many walkaround photographs of my subject, AF800010, at Nellis AFB a few years ago. I'll be sharing a lot of those pics here in this build thread. I also like the "Old School" look of this Aggressor over the more recent "Splinter" camo schemes that are sharp and angular.

Here's an example: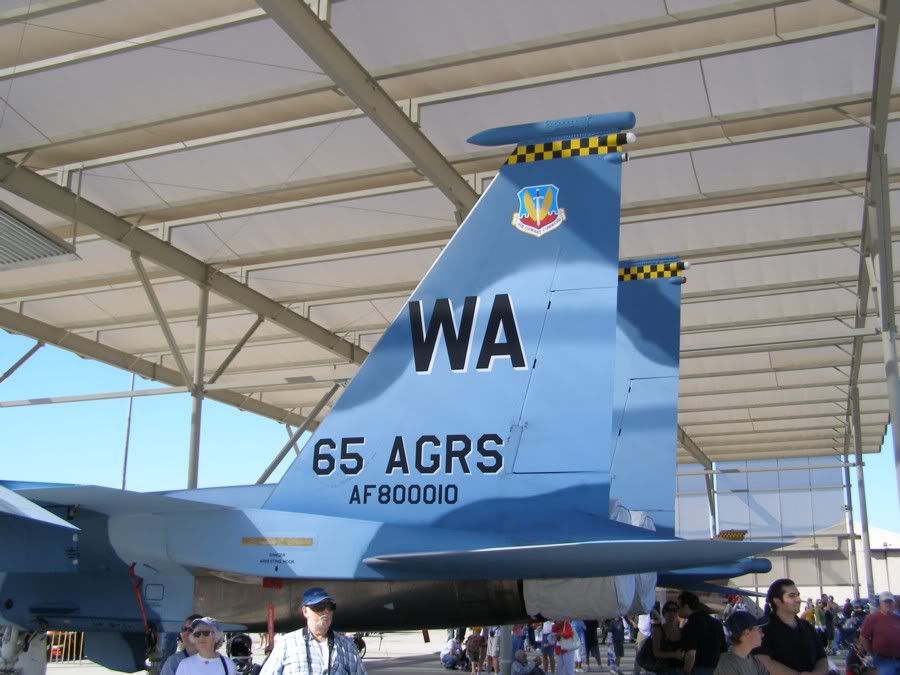 And I've been dying to show overlooked little details like this for years, which is just to the right of the guy's blue hat above. This model, of course, will have it.






5) Also years ago, I bought the Deployment Productions print of this very same jet, which is shown below and now my new sig pic. Unfortunately, they got the tail code wrong.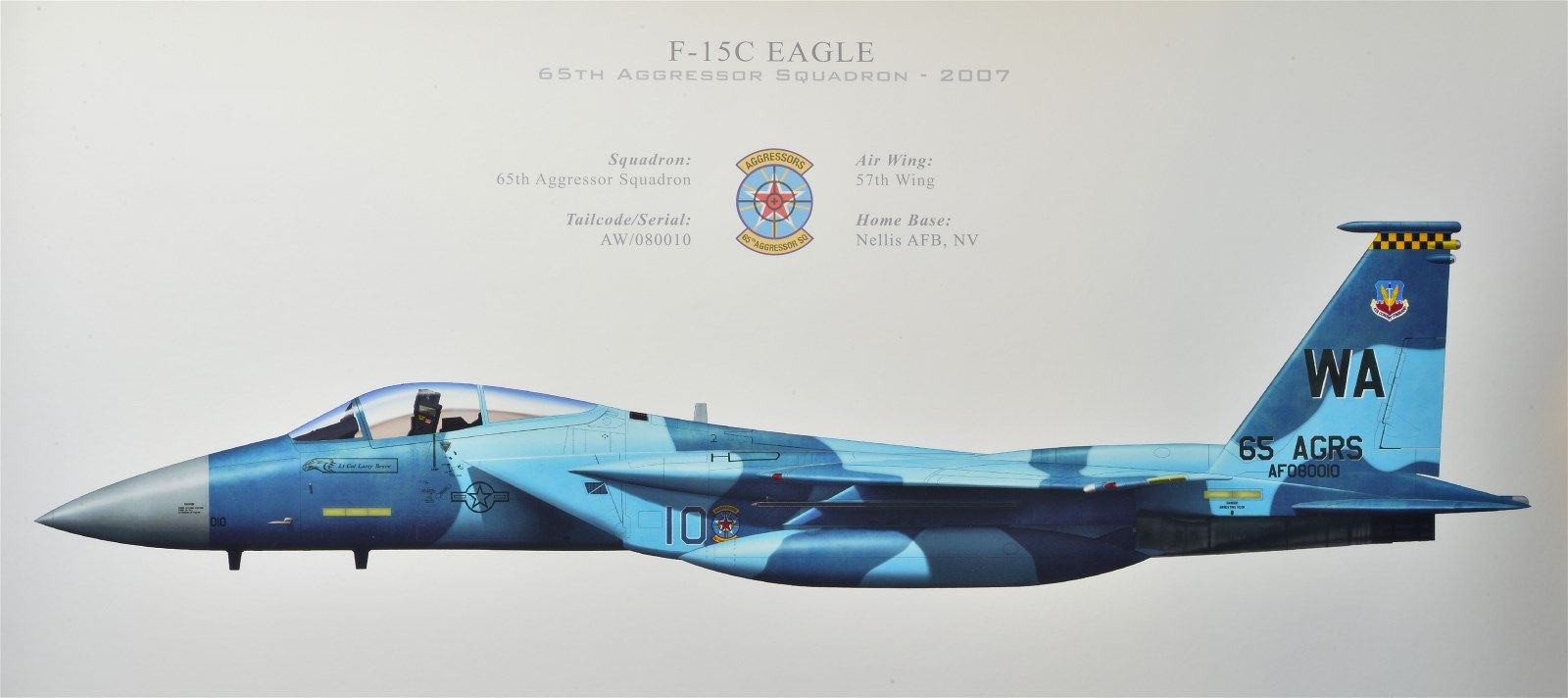 Since this project has been in the works for some time now, I have collected a lot of stuff over the years to help me "Kick It Up A Notch". Of course I have the Afterburner Decals and a very rare copy of Jake Melampy's, "The Modern Eagle Guide" in new condition. I could have got a fortune for this book on eBay or Amazon over the past 2-3 years, but Jake has newer and likely better "2nd Edition" coming out soon, which I have just pre-ordered.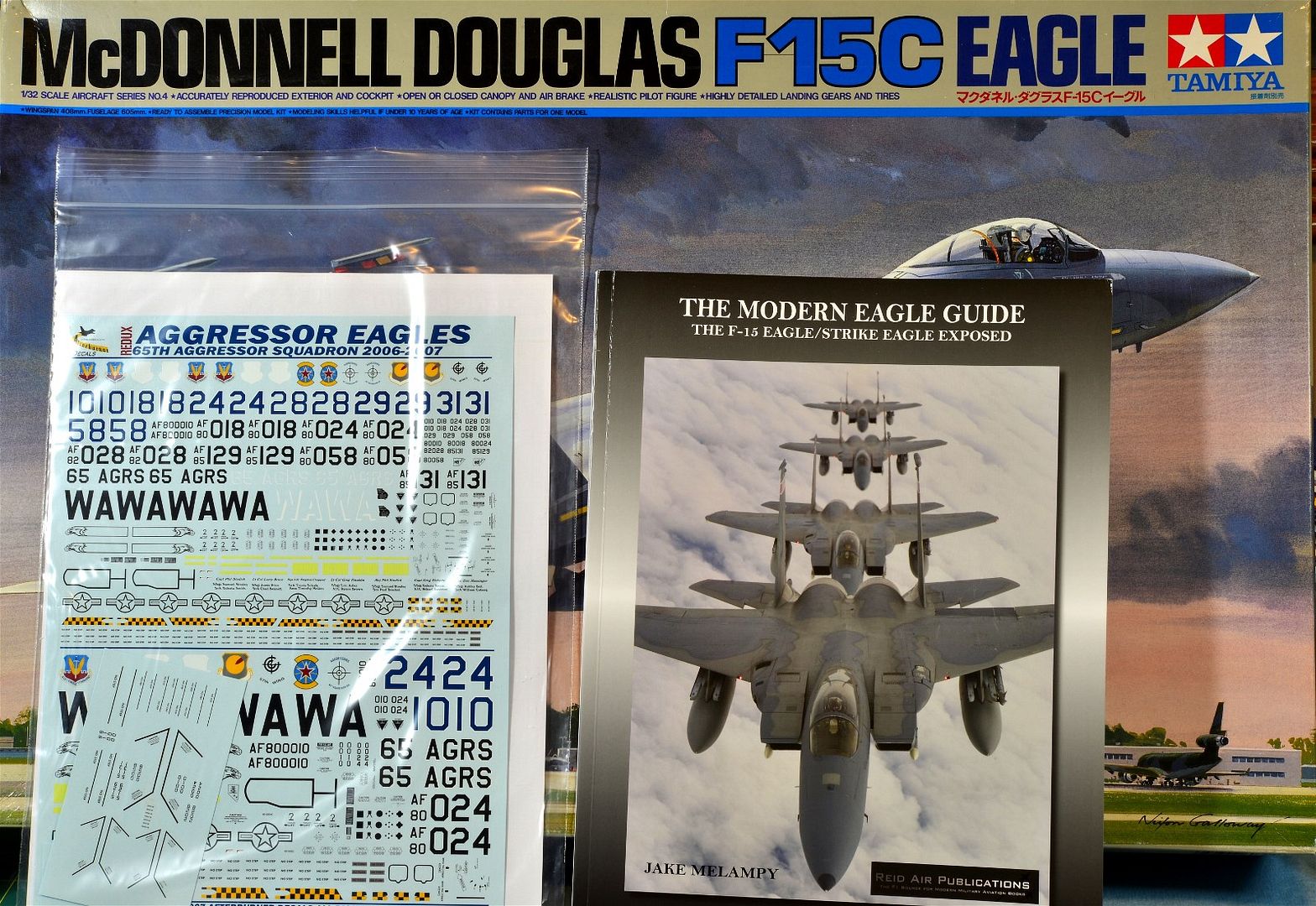 I also have every single Eduard kit of PE brass, for both the F-15C and the F-15E. Although I'm building the "C" version, there are some "E" bits that will come in handy later. As usual, I will likely only use about 25% of the brass parts available, since they don't always help the build.





I've got the Avionix resin F-15C cockpit as well as the Aires offering. The Aires kit will likely be my first choice, but Aires resin usually fits too small, so maybe a bit of both? I'm not really sure what's in the Wolfpack "Update Set", but if even one or two parts work out, I'll be happy to use them.






Of course I have the excellent Zactomodels AIM-9X missiles, the currently OOP Two Mikes ACMI pods and a set of OOP Cutting Edge AIM-120 missiles. I likely won't be using the AIM-120's, but they come with the LAU-128 launchers with ADU-552 adapters to replace the kit missile launchers which are no longer used. I hear the Wolfpack kit has these as well, but Jake tells me they are way too skinny. Hopefully these are OK.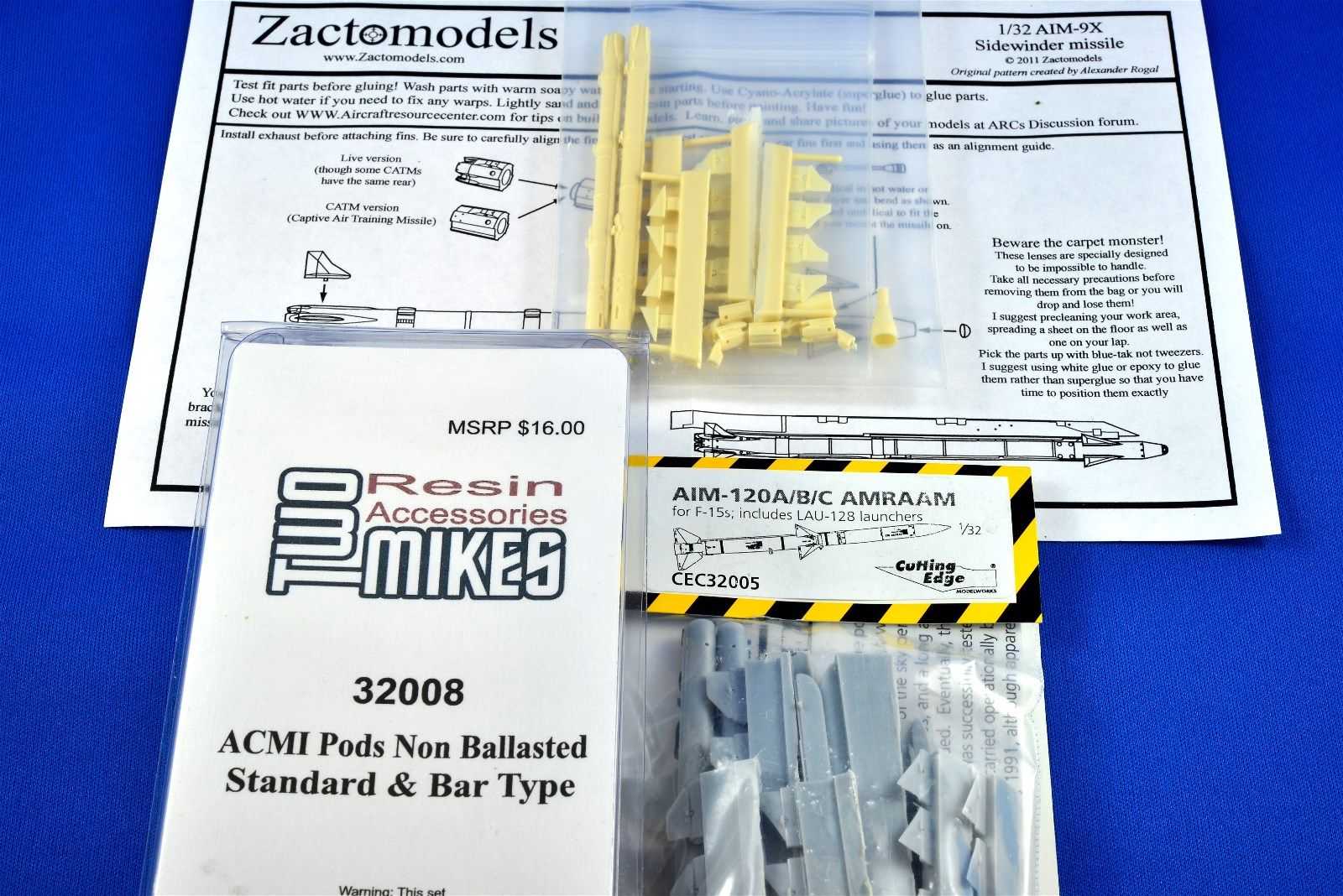 So that's it for aftermarket parts and before you tell me about seamless intakes and resin engines, I want to modify these parts myself with a few ideas I have. I might regret it later, but right now this is the plan.

If you guys have any tips and tricks for this kit, I'm all ears! I know NOTHING about this kit and very little about the Eagle to begin with. For starters, I hear this kit was based on the F-15E kit that came out earlier, so it has a lot of panel line mistakes. After all I went through with Trumpeter kits, I feel like I've been running with weights on my ankles up until now, so these small tweaks should be a breeze.

It could be awhile before I actually have any progress, because it looks like the cockpit area is first. I love to assemble and paint cockpits, especially resin ones, but they do take a long time to pull together.


Cheers,
Chuck
Edited by chuck540z3, 01 December 2017 - 06:17 PM.