Well guys, this is my first WIP thread over here at LSP. I'm also doing the exact same thread over at ARC as usual, but I thought I'd cut/paste what I'm posting over there here as well due to a few requests and see how it goes. As those of you who post your work here in this forum know, babysitting a WIP thread can be very time consuming and detract from actual modeling, so forgive me if I don't acknowledge every single reply. I read them all and appreciate any comment or word of advice, especially over here where the modeling of big aircraft is at such a high level.
It begins….Again! Another TRUMPETER kit in 1/32 scale with all sorts of problems. Unlike the A-10C Warthog I made last time, however, this kit isn't horrible and comes 10 years after the introduction of the A-10 kit in 2001, so Trumpeter has learned a few things along the way and improved the quality. Also unlike the A-10, there are some really nice builds of this kit out there on the 'net, so it can't be that bad. Instead of whining about every flaw I find in the kit like I did last time, I'm going to treat each problem as a positive challenge and document how I fixed it.

I'm not totally sure what exactly I'm going to model, but right now I'm leaning towards a "Restored Warbird" scenario, where the aircraft is painted and has the nose art of a real P-38 Lightning that fought in WW-II, but it's now super clean and only flies at air shows, etc. A bit of a "what-if", but I've found when researching real restored warbirds that many of them are fashioned after a totally different serial number, sometimes many times, so they are sort of what-ifs in their own right.

The number one goal of this build is to make the finish as perfect as I can, especially since I'll be doing a new metal finish and every flaw will show. Curiously, the kit comes with a very detailed gun bay and engines, but unless you cut out panels and modify the kit drastically, you'll never see any of it. I've decided to drop back and punt, leaving all that alone. I spent many weeks painting and detailing the engine on my P-51D, but I rarely every look at it because I like it displayed with the engine cowling on. The clean look I'm after for this P-38 needs no clutter of removable panels, but the cockpit and wheel wells will be highly detailed, since you can see all of it. As far as "accuracy" is concerned, I'm not going crazy because this aircraft does not exist anyway.

Like with my other builds, I'm throwing a lot of aftermarket stuff into this project as follows:

• Cutting Edge cockpit (CEC32159)
• Webgarden P-51D cloth seatbelts (I think these are accurate for the P-38 as well?)
• SAC metal landing gear
• Masterdetails Supercharger resin
• Grey Matters corrected props
• GM wheels or Aires wheels (I haven't decided yet)
• Eduard Exterior PE
• Eduard undercarriage PE
• Profimodeler brass gun set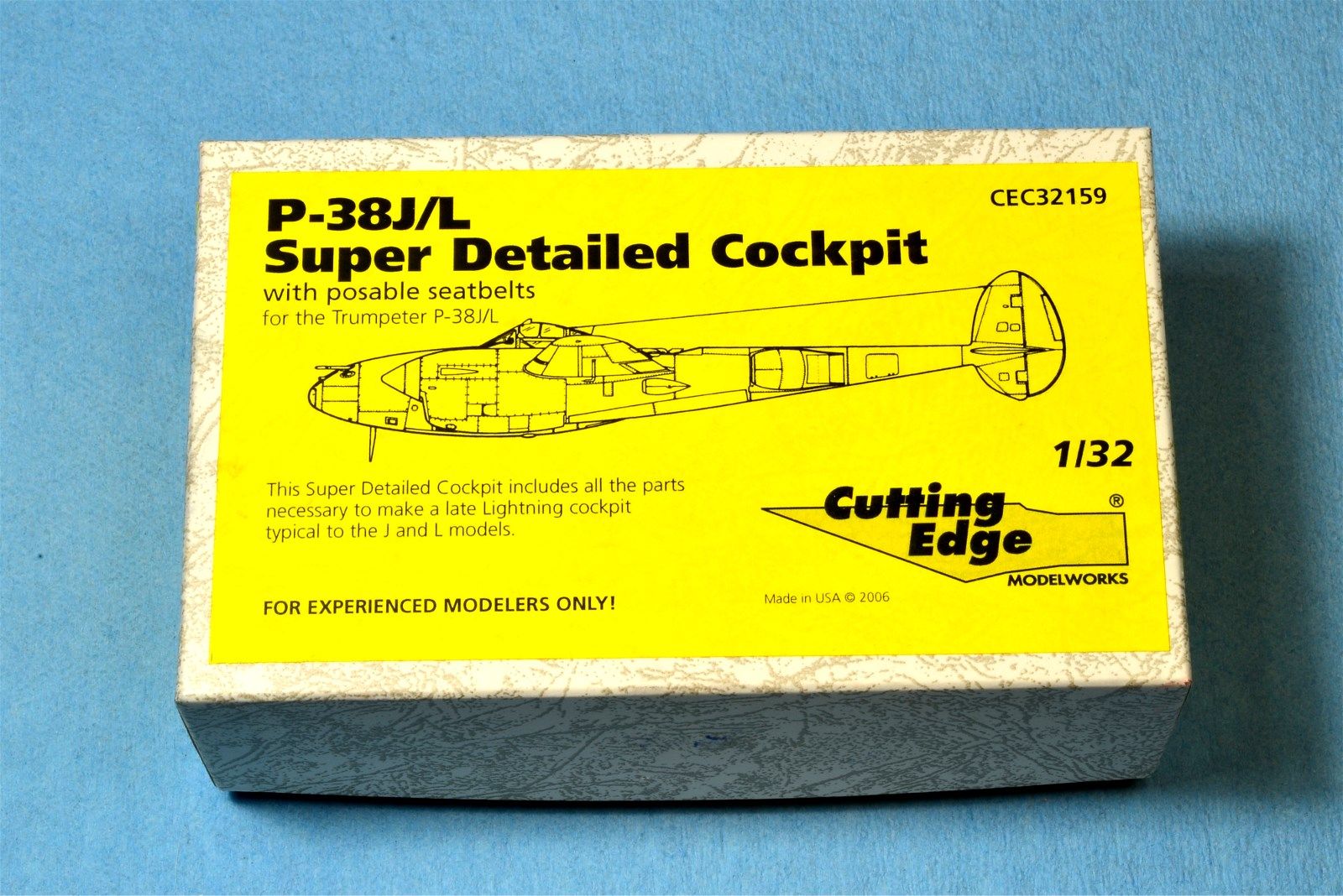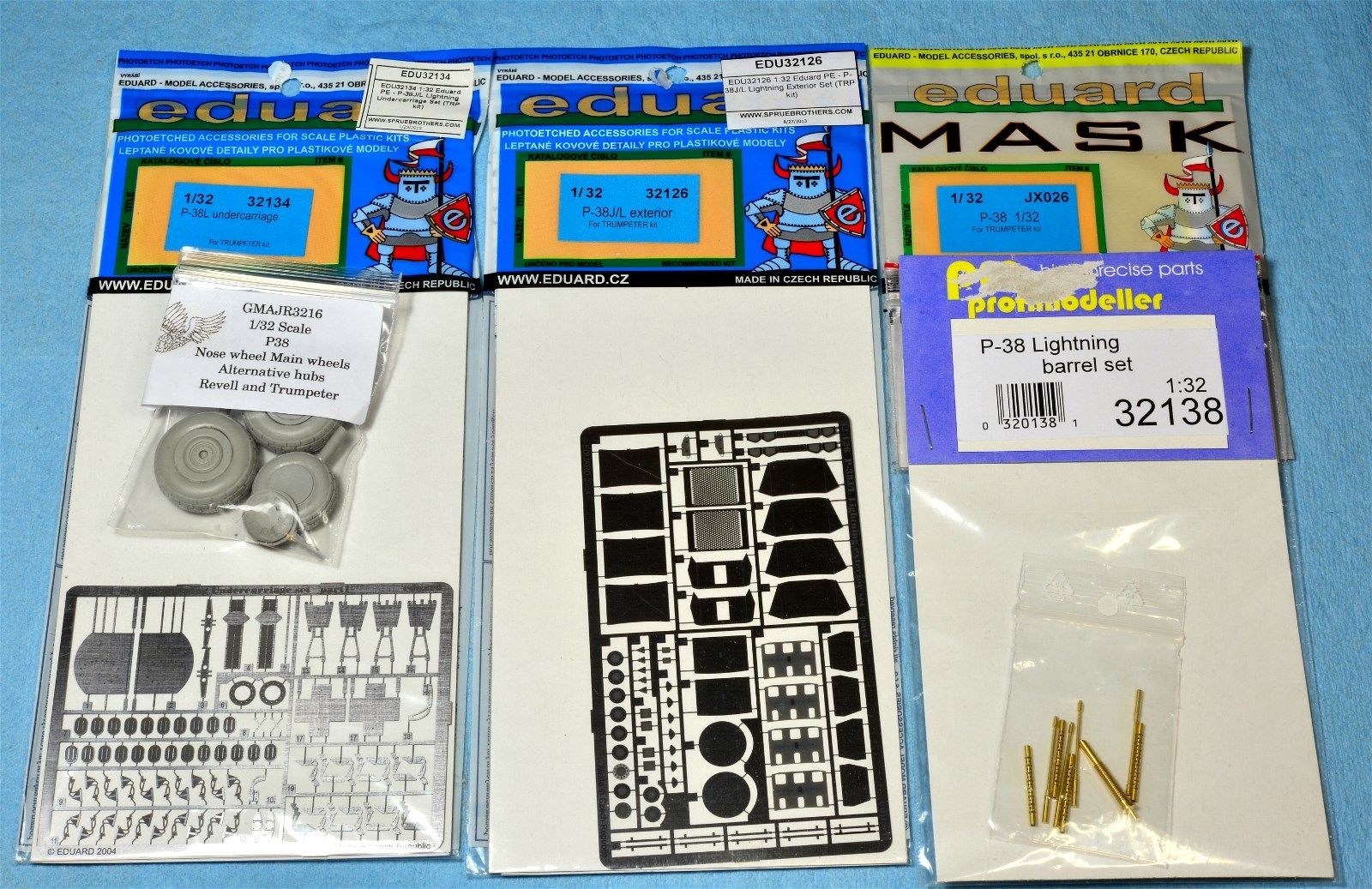 I have four books to help me with details:

• D&S P-38 Lightning Part 1
• D&S P-38 Lightning Part 2
• Squadron P-38 Lightning in Action
• Squadron P-38 Walk Around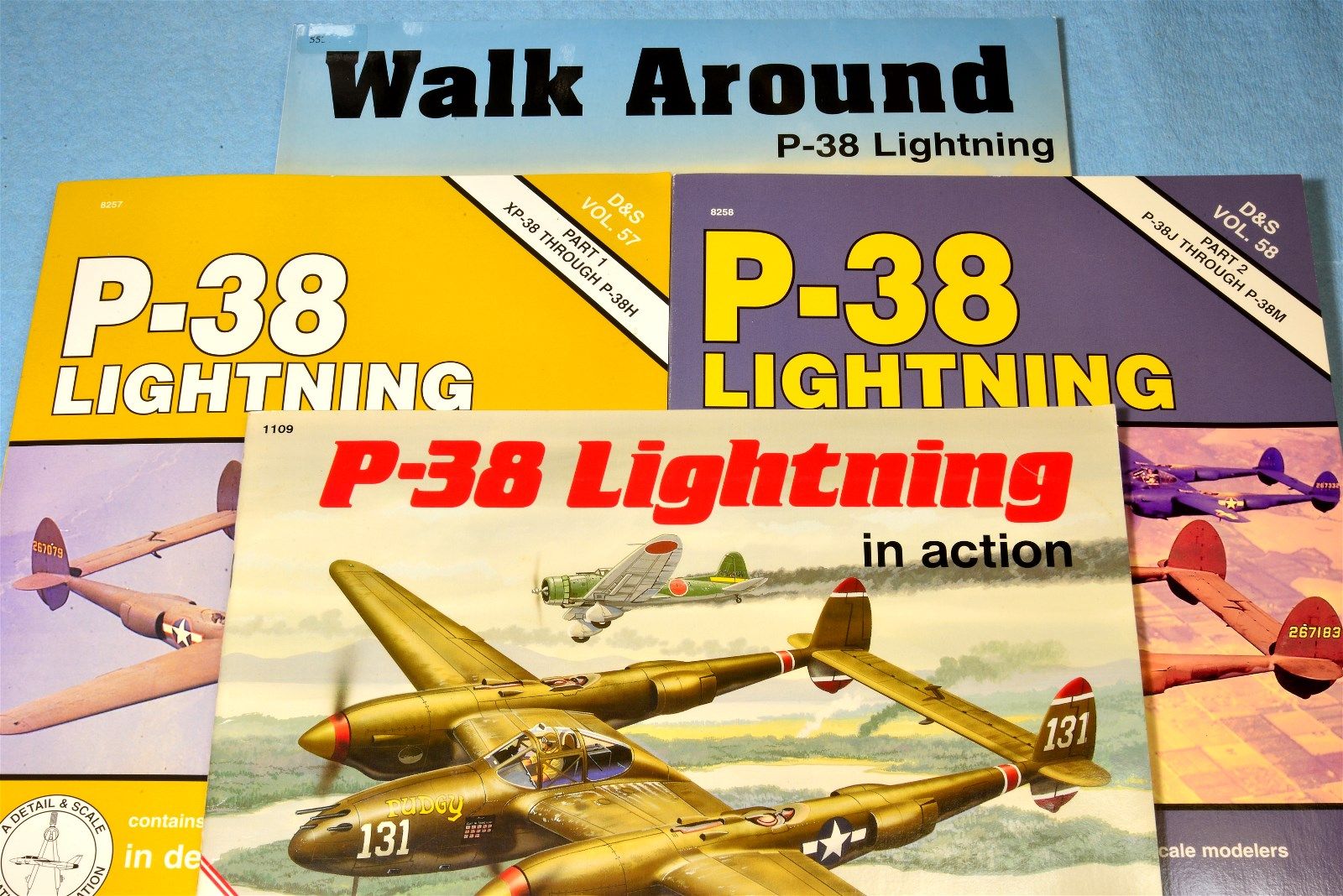 For decals, I've got a lot of subjects covered with the following:

• Kagero P-38 Lightning at War Part 1 Book and Decals
• Kagero P-38 Lightning at War Part 2 Book and Decals
• Bombshell Decals "Wicked Women" P-38 Lightnings Part 1
• Bombshell Decals "Wicked Women" P-38 Lightnings Part 2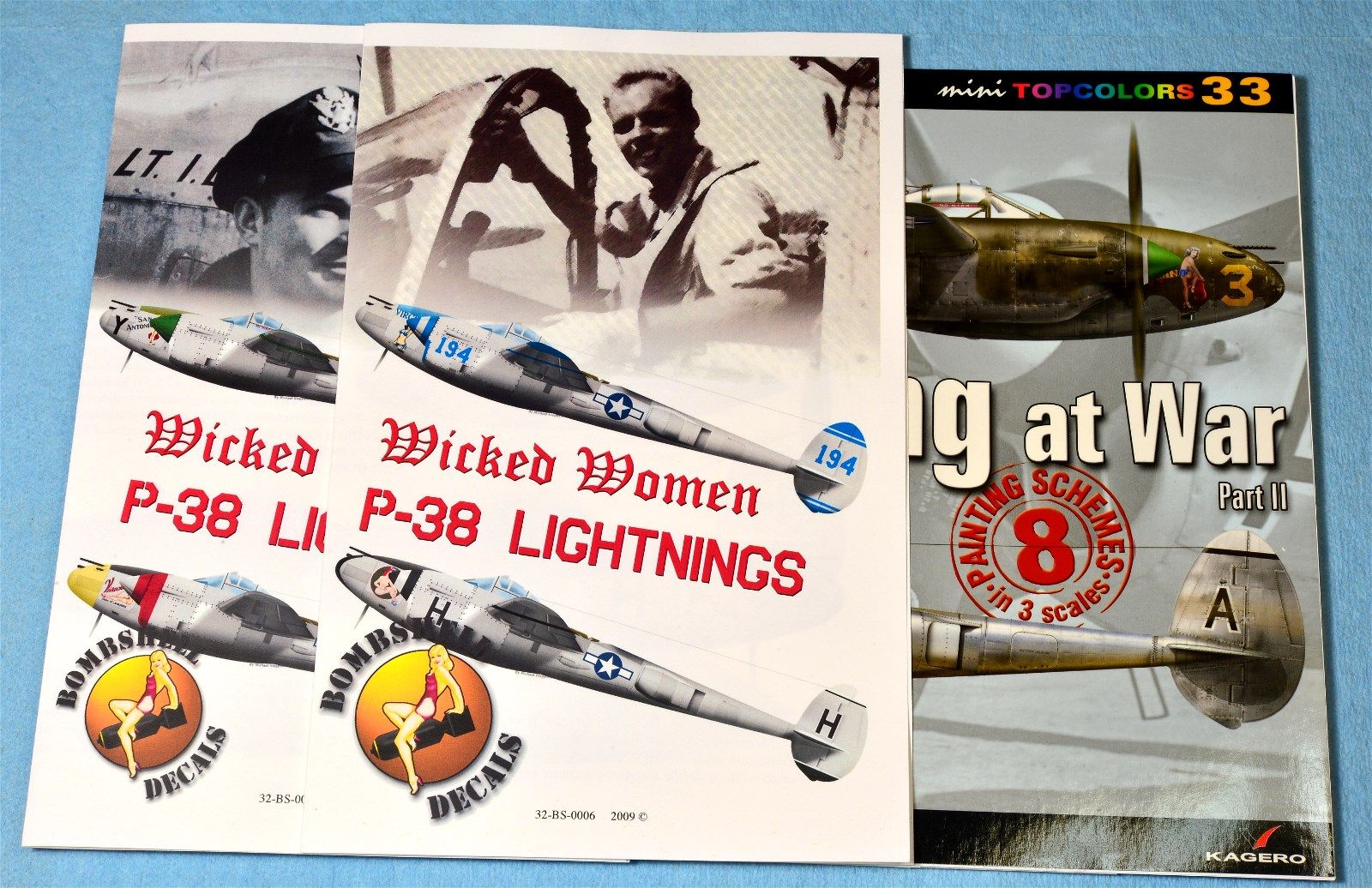 I haven't received the Kagero Part 1 decals yet, but when I do I'll pick a subject. Almost all the decals have sexy nose art, but some of it is a bit too sexy for model magazines, so that will likely influence my choice to keep my model politically correct!

Unpacking the kit sprues, I found a big problem right away. Although the kit box is undamaged and the bag that held Sprue "C" shows no signs of wear, the main upper wing has a great big dent in it. It must have been damaged at the factory and just thrown into the box anyway. I've turned up the contrast so that you can see it better…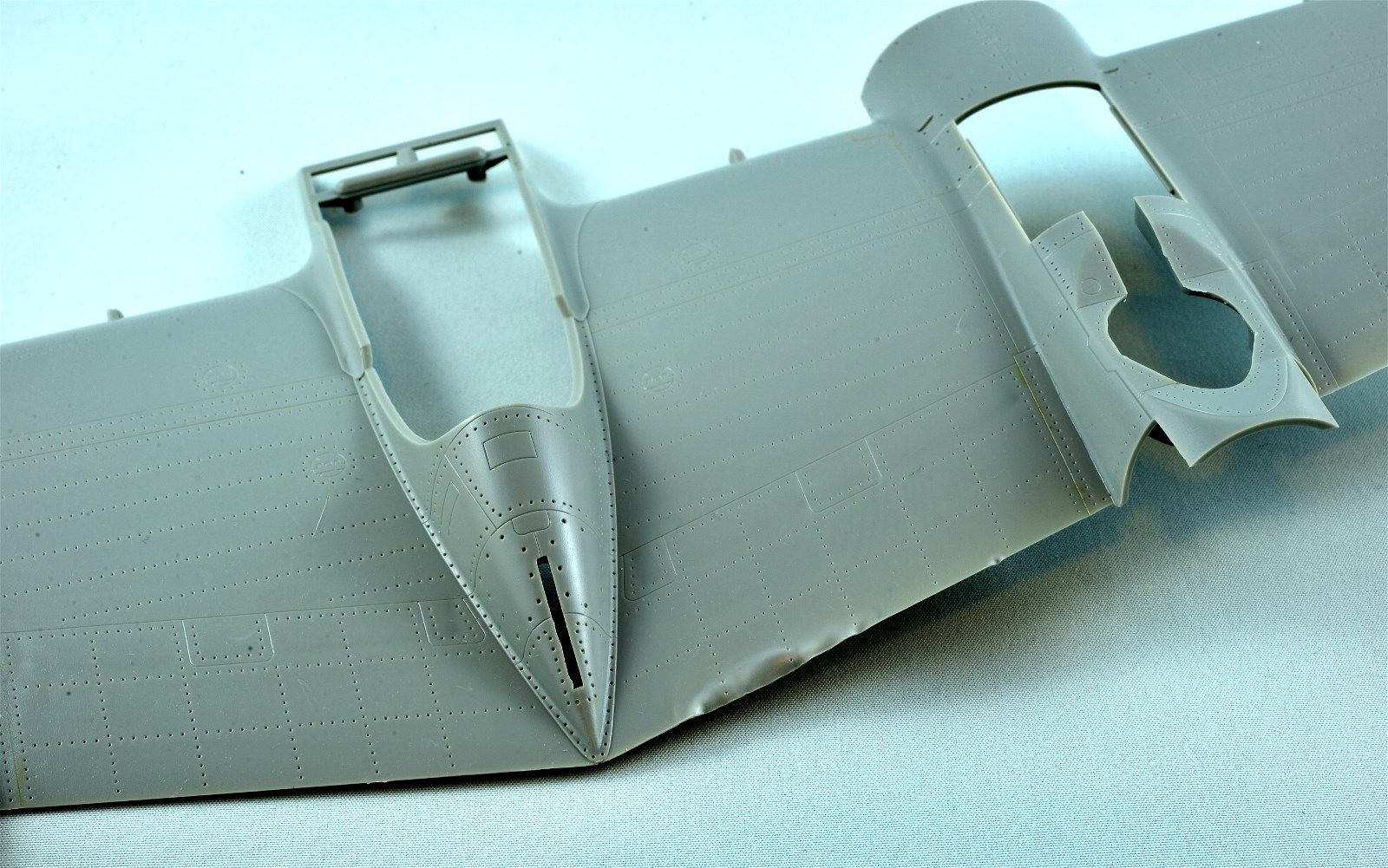 A close-up of the top....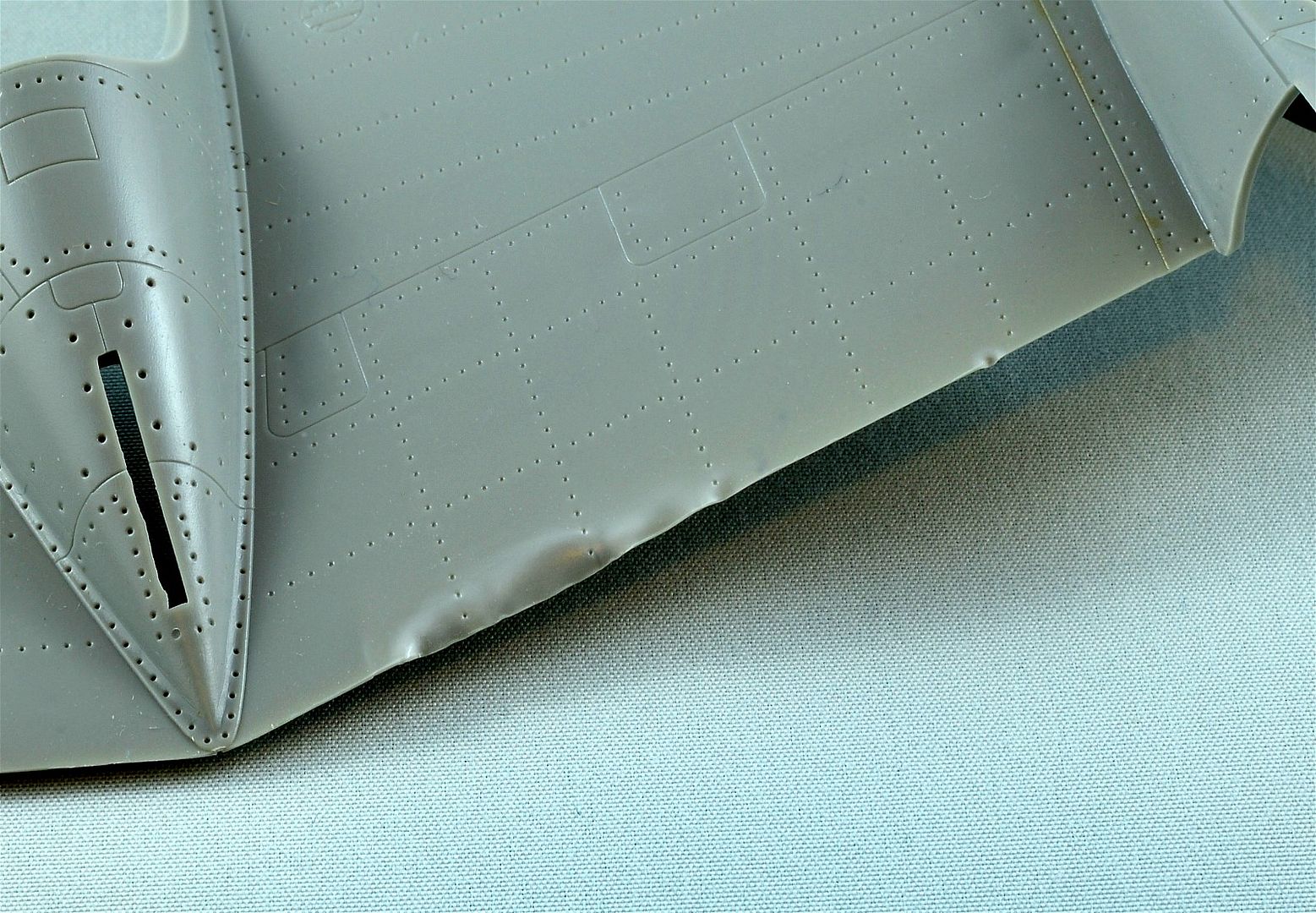 And bottom…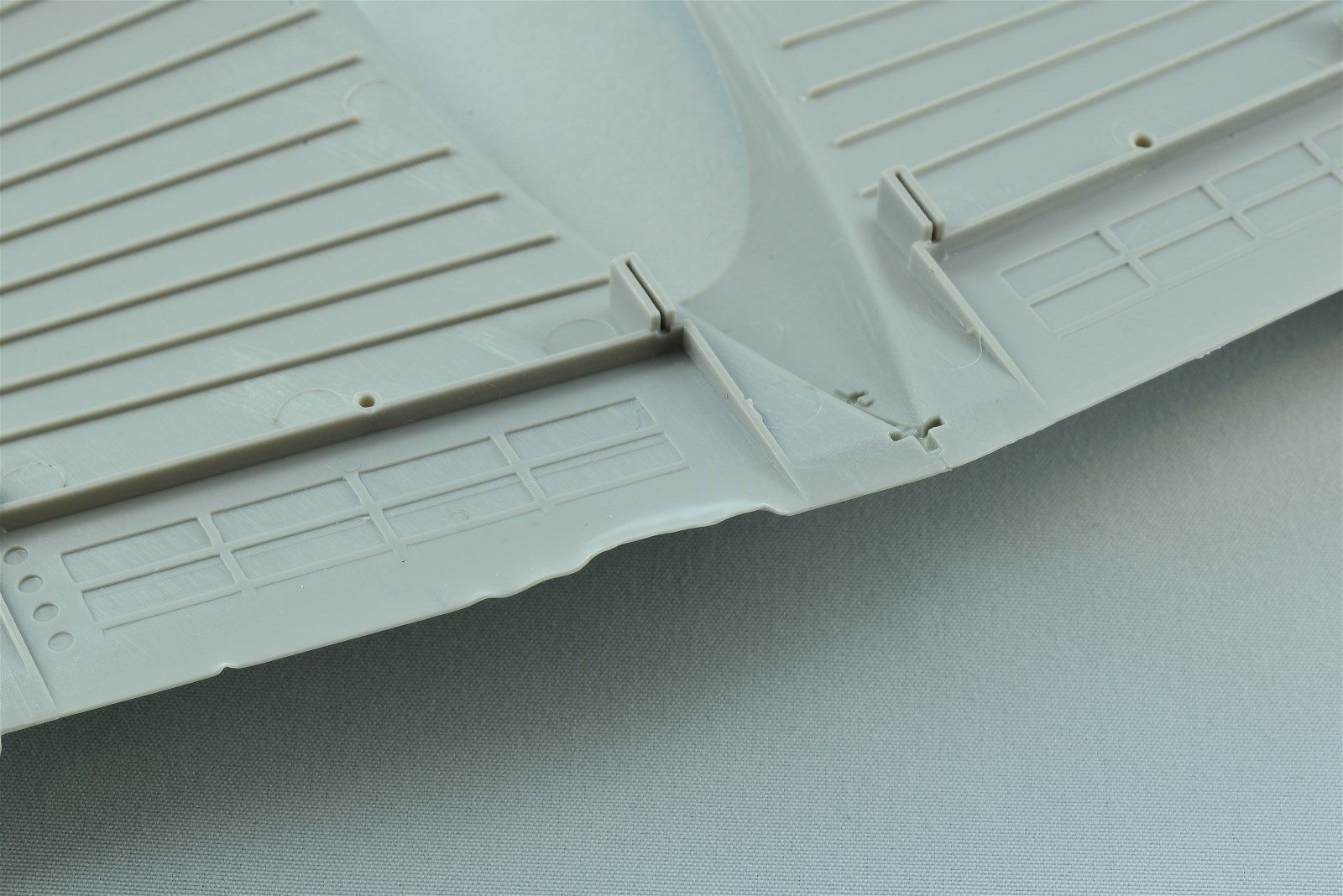 This is pretty upsetting, because this part is super thin and shows up on the top and bottom. It's not like I could glue a top and bottom piece together then fill it with putty and sand it clean, especially with that fine rivet detail and a NMF. Thinking about it for a few days, it occurred to me that a heat gun might help to soften the plastic, allowing me to flatten the dent. Using a scrap piece of plastic, I found that setting heat gun to a medium temperature of maybe 150 to 200 degrees was about right, but you have to be VERY careful and you shouldn't heat the plastic for too long- maybe 3-4 seconds. If you get too close to the plastic or heat it too long, the plastic will shrivel and then you're really screwed. Here's how it looks after heating the part lightly, then flattening the plastic on a hard surface with a putty knife. Pretty good!- but notice that the plastic has pulled back slightly as it shrunk a bit. You can really notice it on the upper portion where I tried to heat that little nick. I should have left it alone because the nick can be filled with CA glue. Whatever the case, I now have a nice flat surface to work with.






To fix the scalloped edge, I used a trick I learned in my Hog build using liquid sprue. By putting a bead of LS on the edge thicker than required, this part will look as good as new in no time and you can re-fresh rivets. The LS will shrink over the next 2-3 days by as much as 50% and it takes as long as a week to get it to dry nice and hard, but it will work, especially since it's a thin application. Thicker applications of LS gave me all sorts of grief last time as it continued to shrink and warp after many months of drying, so I learned my lesson. Keep LS thin and if you need a thicker filler, go with putty or CA glue.

You can also notice some depressions in the plastic due to molding flaws, which are all over the place on just about every part. Another challenge for the future!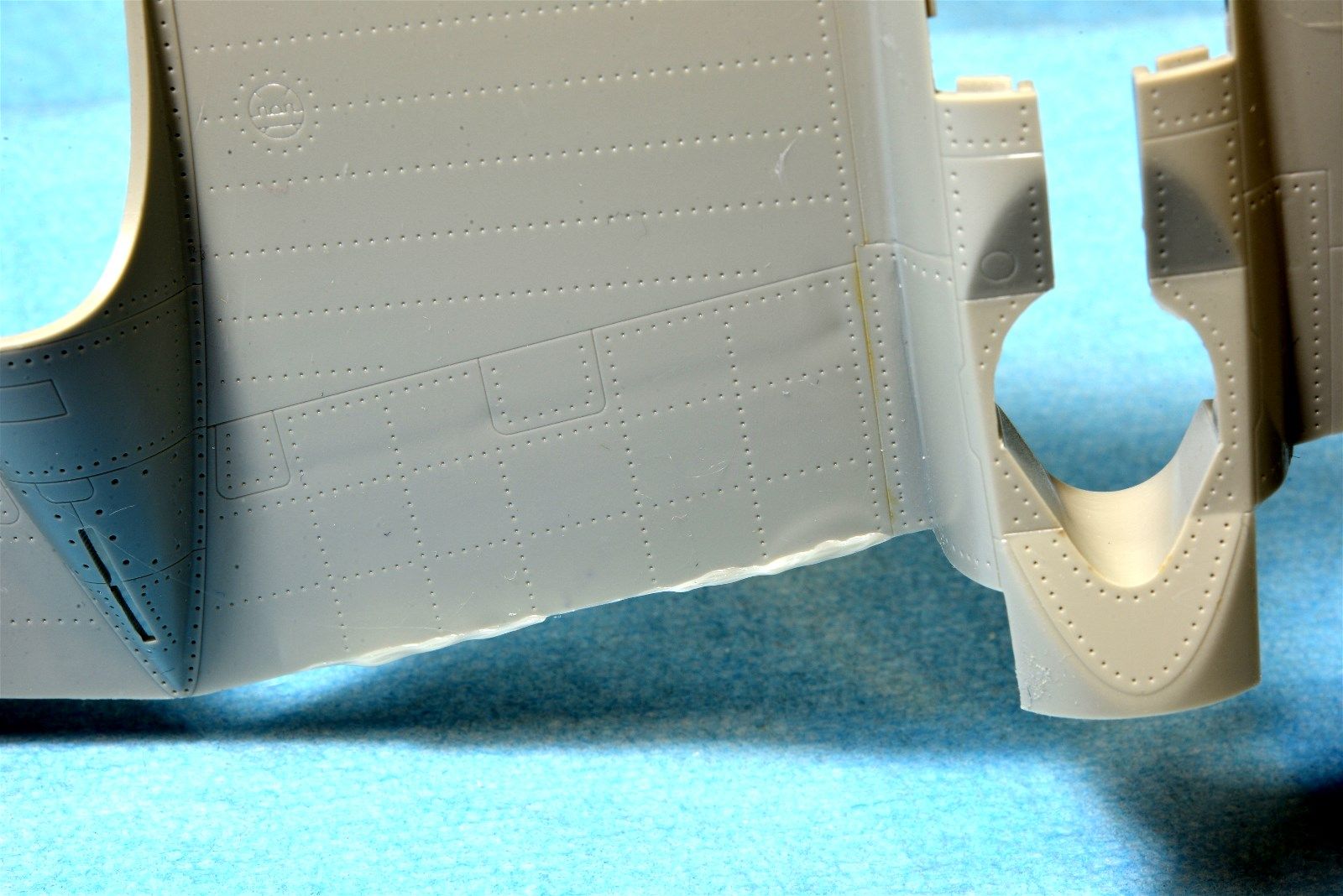 Anyway, I'm calling this Save #1!

Thanks for checking into this WIP thread and I always appreciate advice since I know almost nothing about the P-38. As with all my builds, this could be a long ride.

Cheers,
Chuck
Edited by chuck540z3, 15 January 2016 - 05:57 AM.