Greetings. Let me fill you in on my progress with the R-2800. It is proving to be utterly exhausting. Take a look: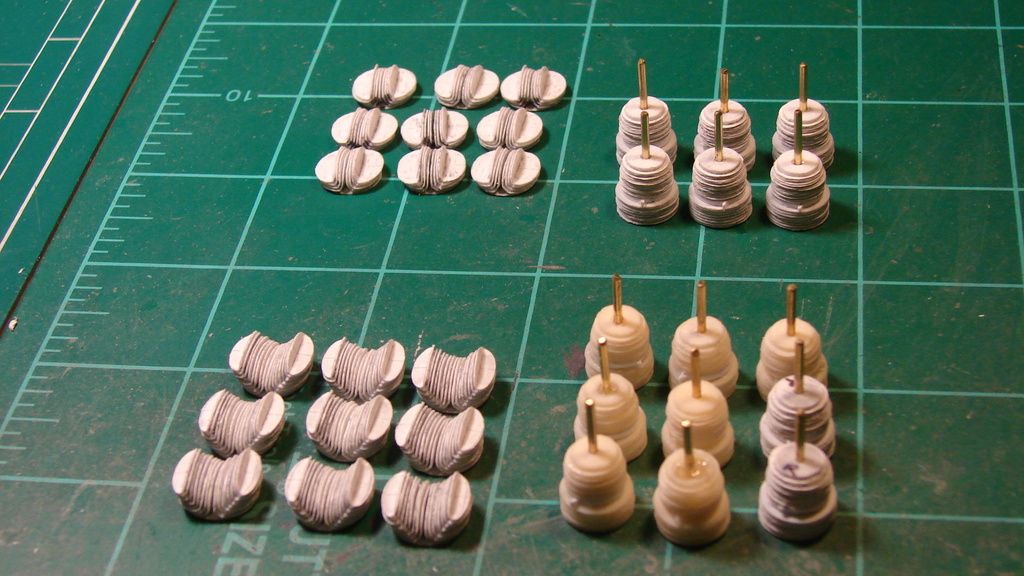 OK, what you see are cylinder parts for the rear row up front, and parts for the front row in the back. Let's start with the rear row parts. There are 9 completed cylinder bodies, and 9 completed cylinder heads, except for the valve covers (which are next in line). I have a strategy here - to advance progress on the rear row first, make my mistakes there, as the rear row is not easily seen, learn and improve on the front row which is much more visible. So, you might notice that 7 of the 9 cylinder bodies are resin (they are slightly yellow). The other two are built up with lots and lots of pieces of plastic sheet (53 individual pieces per cylinder), as you have seen already in my previous post. Recall I intended to make resin molds to decrease the amount of labor - make 6 masters, and then mold them twice each, which makes a total of 18 parts (12 resin castings, and 6 plastic masters). So why do you only see 7 resin castings? Because they were just maddenly problematic. Due mostly to poor resin flow issues, I had to scrap just about half my castings. What I salvaged is less quality than what I was hoping for, but acceptable for the rear row. I thought about scrapping them all - but geez it takes forever to do just one cylinder and the work is soul-destroyingingly monotonous. So I reached a compromise with myself. Also, the rubber molds can only make so many castings before they begin to fall apart - especially with all the thin cooling fins and the gaps between them. The cylinder heads, you will notice, are not cast at all. They just do not lend themselves to casting due to shape mostly. So I bit the bullet and built each one up piece by piece (part count is 33 per head). I am very happy with the results. Next are the valve covers on each lobe (two per cylinder head). It will also be very laborious because of their complex shape. Perhaps I can resin cast those.....
The front row is incomplete, as you see. Only 6 of 9 cylinder bodies are done, but the ones you see are the picks of the litter. They will really look good. I will build up the other 3 later on (just can't wait to do that!) after I get alot more done with the rear row. You also see all 9 cylinder heads, but only about half built up. I'll get to that later too.
Here is a close-up of a completed cylinder head build-up: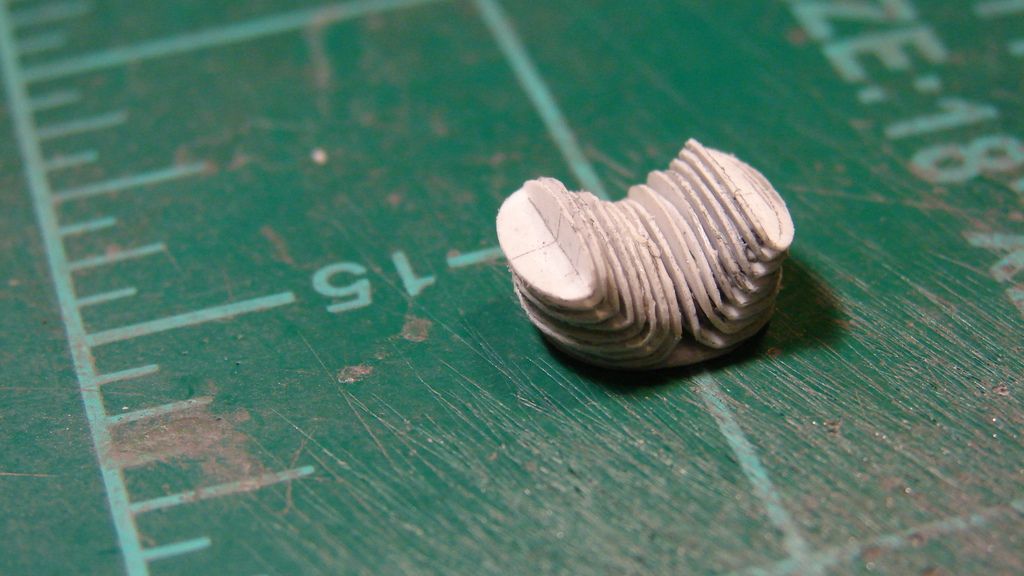 There are 8 layers, each with a bent-up cooling fin, and a bent up spacer to provide the gap. And each lobe has its own set of parts. In addition to the valve cover work which is next, the little triangular holes will need some treatment to accept the spark plug cables. I will get to that in a later post.
There is another feature of the R-2800 that I am going to try to represent - baffles: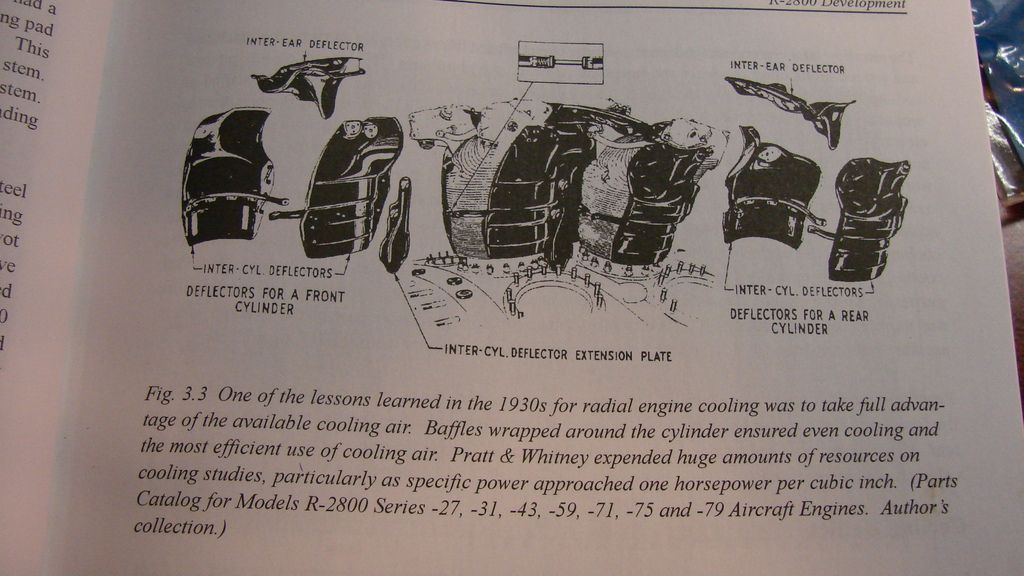 I took that shot from a page in my 700-page book on the R-2800. Look closely at any picture of an R-2800 and you will see them. I don't have a real good plan for this yet - they are not going to be easy, even a simplified version. And if I fail miserably I will leave them off. Heck - I don't think I have ever seen them modeled anyway. Accepting ideas.....
OK. At least you now know I am hammering away at it. What a huge undertaking...
Later.