Hello folks. Some of you have seen my work on a 21st Century Toys (21CT) P-51D (Miss Velma) a few years ago, and more recently a P-38J (Lucky Lady), both multi-year mod projects. If you will indulge me, I intend to finish off the big three with a P-47 Thunderbolt. A nice winter project to get started. It will probably take a couple of years like the others. Then some day I will get going on the F4U Corsair, and then I will not have any 1/18 scale models left to modify.
As is customary, I must show you the unmodified P-47 toy first, and then let you know my plan of attack (if there is one yet). Here are some shots of P-47D "Jabo":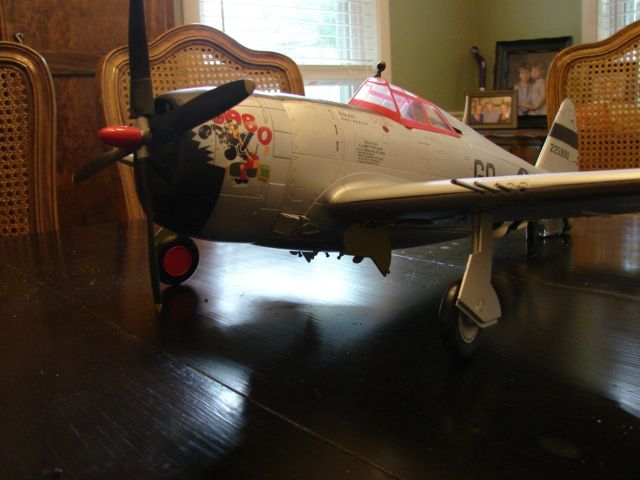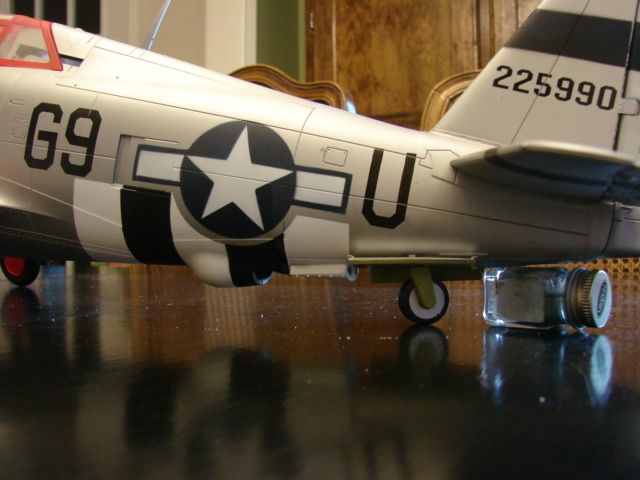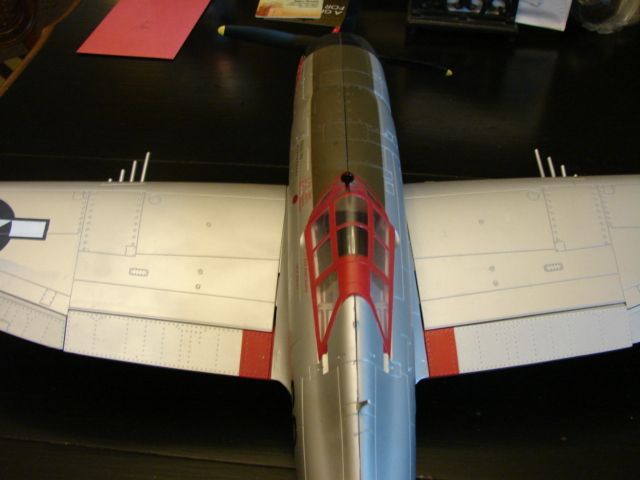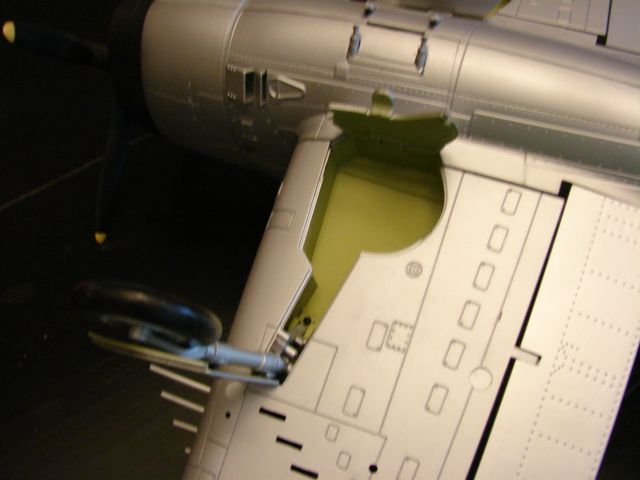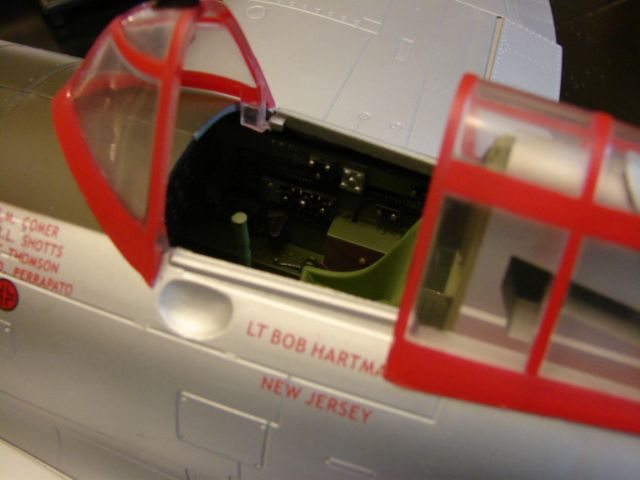 Unlike my last two efforts, I see no real challenges that risk not being able to be overcome, save one (the engine). If the engine doesn't pan out, I will just hold my nose and use the existing one. Although the toy looks as toyish as the others, I believe it has more potential for realism than either the P-38 or the P-51, where I had to live with some inaccuracies that were beyond my skills to fix.
The biggest projects are going to be the landing gear, wheels/tires, wheel well, control surfaces, cockpit, and canopy glass. My previous two efforts had equivalent projects. But the big project they didn't have, that this one does, is an engine which can be seen. And that is the project I intend to work first.
To see the engine up close, of course I disassembled the fuselage: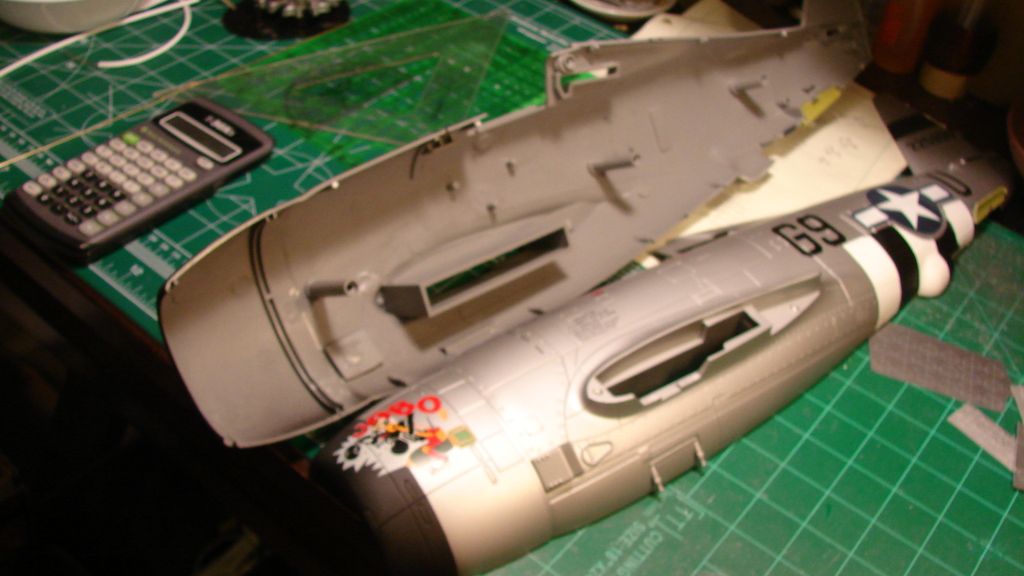 As you can see, and not surprisingly, this is a BIG model. But you have to understand that the P-38 build redefined my notion of size. So I am not intimidated. The engine (unmodified) looks like this: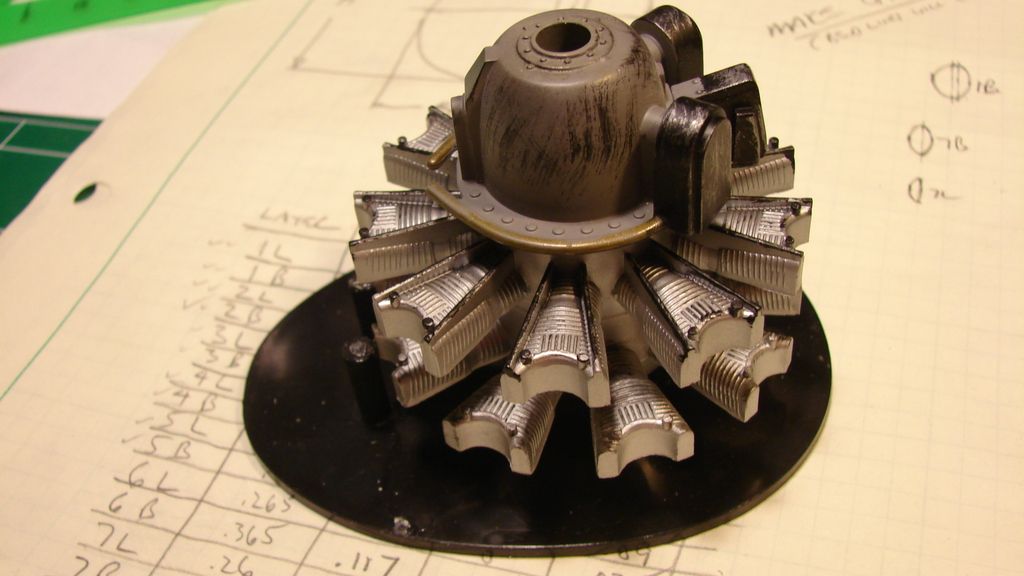 That, my friends, is a somewhat plausible effort by 21CT at a Pratt & Whitney R-2800 Double Wasp. Note the cylinders only have the front half (the rear half being invisible). Anyway, I have decided that I will salvage none of it save perhaps the bulkhead it mounts to. Instead I will scratch build the R-2800, at least what can be seen looking into the cowling from the front. I will not attempt to include the exhaust or intake pipes, or the aft portion of the engine block. I thought about it, but no - it would be too much. I will include all 18 cylinders, their push rods, rocker arm covers, spark plugs with wiring, engine block, and all the clap trap in front of the cylinders. That alone will require hundreds upon hundreds of little parts, and will take me a few months I suspect.
I found alot of pictures of the R-2800 (early versions), and wish I could get drawings but cannot find. Also I purchased a Vector resin 1/32 scale R-2800 shown here: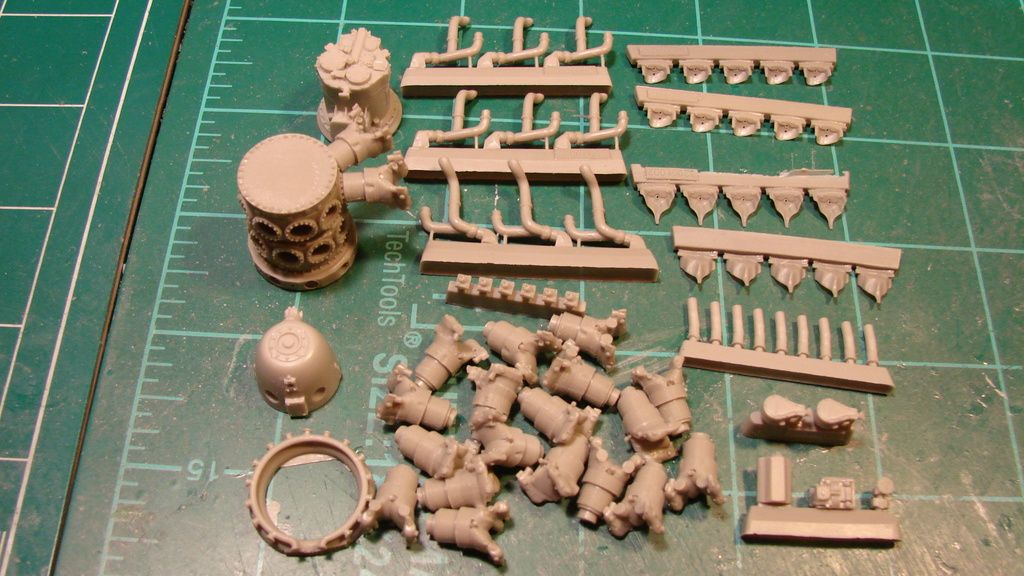 It is a good representation, and will be useful for scaling and copying.
First order was to determine the size of the engine - one has to consider the thickness of the toy's cowling (.07 inch) which scales to 1.26 inch full size. That means the engine has to be slightly undersized to fit. So I did all that layout work and out popped a cylinder size. Also I decided to construct the cylinders using 0.01 thick plastic for the cooling fins, and 0.01 inch plastic for the spacers between the cooling fins. Actually this is a little too thick and results in fewer cooling fins than the real engine has. But it is more than you typically see on R-2800 models I think.
What you see here are flat patterns of cooling fins and spacers for the cylinder heads of the front row of cylinders (9 cylinders):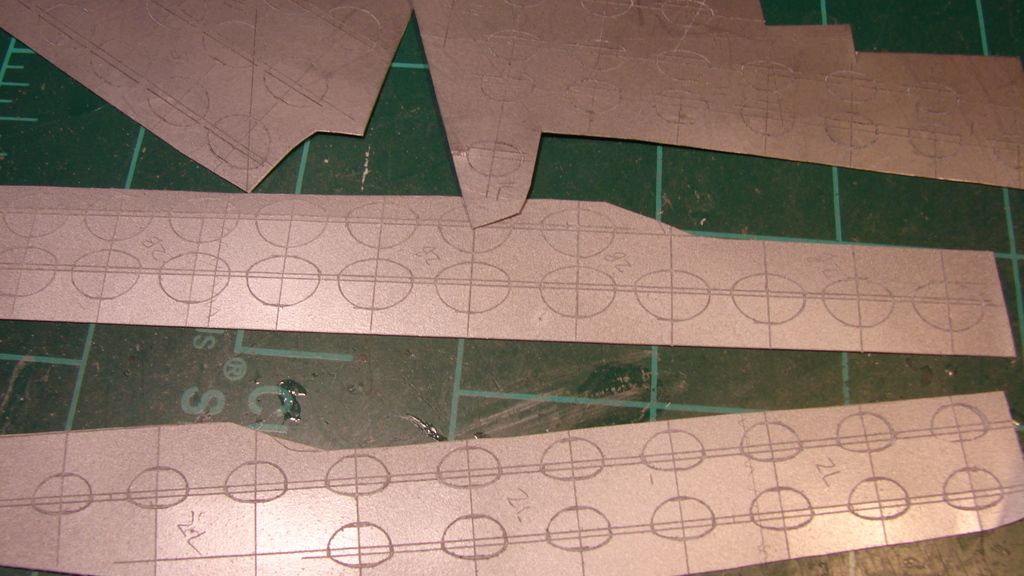 Whaaaaaa? Patience. Here is the prototype cylinder I made a couple weeks ago: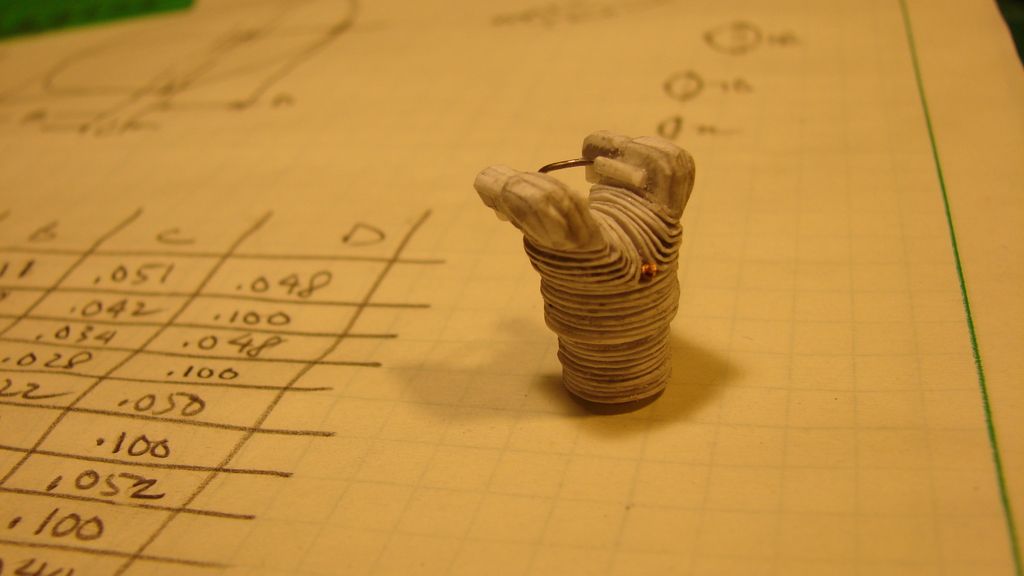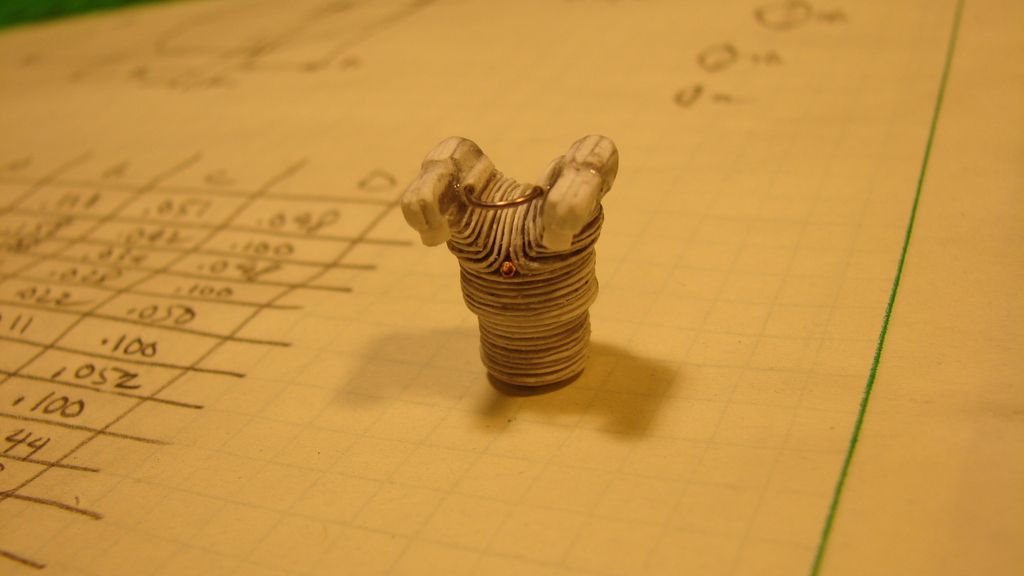 What do you think? I thought I would have to trash it, but it actually is good enough to use. Here it is next to the 1/32 Vector cylinder, and a photo of a real R-2800: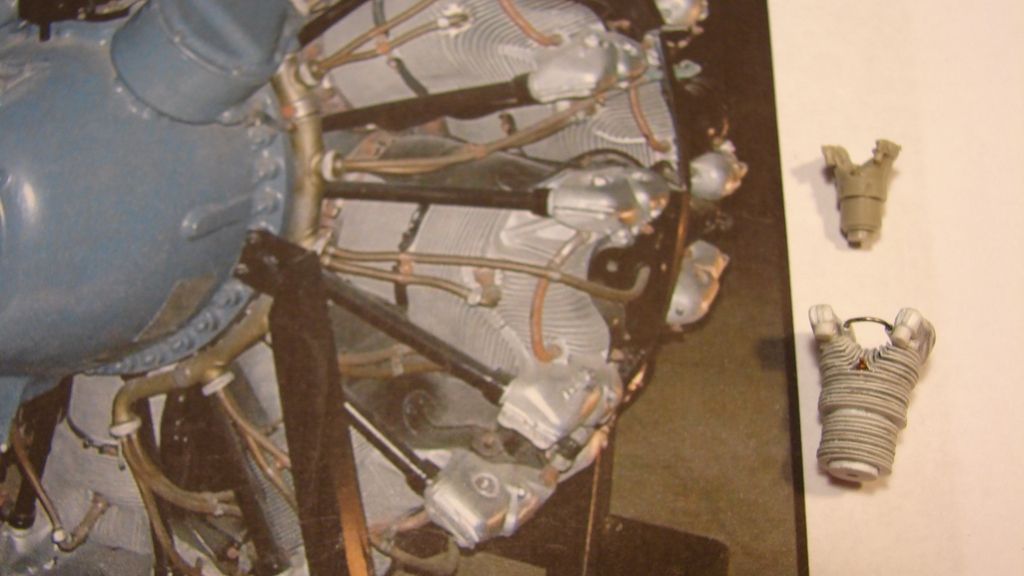 Note the pieces that make up the cylinder head have a 90 deg bend, and a little port for the spark plug. The pieces of the cylinder itself are much easier - simply round, scribed with a circle template.
That is all for now. I hope this generates some interest. Next post will show some results of some real drudgery - making cylinder after cylinder - nine of them. And perhaps the engine block which will be turned on the mini-lathe. Then one day the aft row of cylinders. Many challenges, and an unreal part count. Stay tuned.