Bob Brunson demonstrated a skill for instrument flying while in advanced training, and was eventually assigned to VF(N)-75, under the command of Gus Wilhelm. He was then detached to VF (N)-101 aboard USS ENTERPRISE, after the squadron was split in half, when INTREPID was sidelined after a torpedo hit. Under the command of "Chick" Harmer, VF (N)-101 was present for the "Great Marianas Turkey Shoot", and its complement was able to complete its combat tour in the F4U-2, achieving 5 kills, and without losing a single pilot.
The same cannot be said about VF (N)-101s planes. The squadron didn't do a whole bunch of night flying to start with (ENTERPRISE was not yet at this time a dedicated night operations carrier), and operational attrition reduced the number of serviceable aircraft to a low number rather quickly. Up against a lot of resistance to round-the-clock operations, having to write the rules as they went along, and stuck with a temperamental, first-generation Radar, VF (N) 101 managed to "Plow the Road" and make things easier for the up-and-coming F6F-5N squadrons to follow. Bob wrote an excellent article for THE HOOK a few years back, which stimulated my interest in night fighters in general.
Thanks to Aptivaboy, i was able to get in touch with Bob and we had some very good conversations about the early Corsairs. I'd sent him some pics of my 72nd, 48th and 32nd scale Corsairs and he was pretty impressed.
After careful consideration, i decided i'd build an F4U-2 for him. The 32nd scale Tamiya kit made a lot of sense, because its the best Corsair out there, its a fun build, and its large and impressive enough that a lot of detail can be seen without being too hard on the eyesight. I also had one lying around in my stash, and my memory was still fresh from just completing my Goodyear FG-1.
After reviewing some memoranda Bob had sent me and discussing of his experiences, i decided on Bu Aer No. 02710, Modex "10". This was the Corsair Bob crashed in, coming aboard ENTERPRISE at night.
His plane looked a little something like this...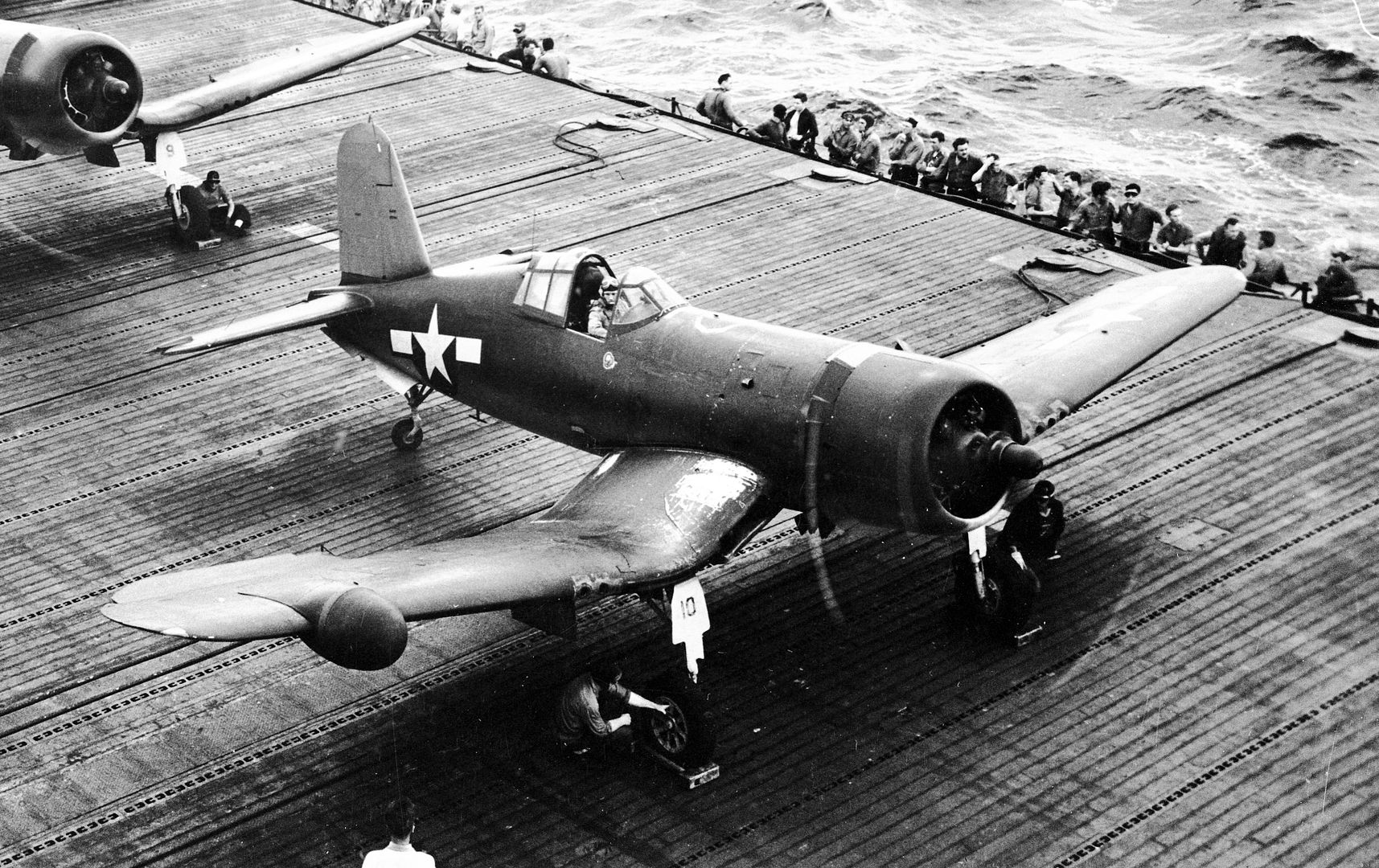 Short version of the story is, one of the position lights on the wings was burned out, giving the LSO an erroneous indication of the planes lateral orientation. When Bob received the "Cut" Signal, Bob was too far to starboard, and in the "dip for the deck", struck the island superstructure, flipping the plane upside down. Bob escaped with only minor scratches, but "Number 10" was deep-sixed.
This subject is sort of controversial. The Navy F4U-2s were not as well-documented as the Marine land-based ones. Over the years disagreements have existed as to the colour of the fuselage sides. After asking Bob about it, i believe the fuselage was re-painted in either one of two ways:
1) The fuselage sides were over-painted with semigloss sea blue (which is a darker colour than Non Spec Sea Blue) or a fresh batch of Non Spec Sea Blue which had not yet begun to "chalk" due to sun exposure.
2) If the plane was re-painted into the graded 4 tone scheme at the depot level (Like NAS Norfolk, Philadelphia, or San Diego), the Non Spec Sea Blue was extended very low on the fuselage sides with just a minimal amount of Intermediate Blue transition.
As Birdcage Corsairs go, there are several other worthy items of note....
1) The plane appears to have had the upper cowl flap modification installed very late in the game, as it has not yet been painted. Also the common problem of fuel tank leakage is evident, and Squadron engineers felt a few more pieces of tape would be useful, resulting in the Hyper-Dodecahedron-esque tape treatment on the fuel tank cover.
2) Unlike Marine aircraft, these planes were not fitted with the MK XLI bomb racks under each wing.
3) The radio antenna installation was much simplified over antenna installations we're used to seeing on Corsairs. A single antenna wire attached to the leading edge of the right hand horizontal stabilizer, ran up to the rubber tensioner, and then down to the ceramic insulator fitted to the fuselage just behind the canopy. There are Radar Altimeter Antennae fitted to the fuselage keel as well as a transponder antenna (not visible). A single whip antenna on the fuselage spine completes the antenna configuration.
4) If you look closely, you will see that the armored glass has been removed. This was somewhat of a mixed blessing, since it improved visibility at night, but made stern attacks much more dicey in light of tail gunners aboard Japanese G4M "Betty" bombers.
5) The canopy appears to have been retrofitted with additional armor plate (The unmentioned "Part E23" in the Tamiya kit).
6) The inboard right wing root shows an unusual degree of exposed, bare metal. Not at all uncommon to see this, since many access doors were on the upper right hand side of the Corsair fuselage. This is an extreme case.
7) Finally, although its a Birdcage Corsair, the plane has been fitted with the taller tailwheel post, no doubt to improve visibility over the nose. The Corsair went thru a protracted evolution of the tailwheel assembly in an effort to improve visibility over the nose, and reduce the tendency to "swing" on landing due to Gyroscopic Precession.
If you get a chance to build a model of a plane for the guy who actually flew it, take the opportunity while you can. Bob just turned 94 and is sharp as a tack and still in good enough health to appreciate the kind of work we do. But people like Bob are perishing fast. He's one of the few surviving Birdcage Corsair pilots.
Construction of my second 32nd Birdcage has begun. Watch this space.
david
Edited by David Hansen, 09 September 2016 - 05:52 AM.