Fellow Modelers,
I am starting this thread to share the building process of my current model project, Merit's 1/18 scale SBD-3 Douglas "Dauntless" (famed U.S. Navy WWII dive-bomber). This is a brand new kit from a new model company. I do not believe this model is an up scaled duplicate of Trumpeter's 1/32 scale SBD-3, but they are similar. I could be wrong, but from what I have read Merit and Trumpeter are two separate companies, although they do have a business relationship with each other. It appears Merit created their own kit design, but then contracted Trumpeter to do the manufacturing and packaging. That is why everything about the kit looks so much like Trumpeter. The kit is based on Merit's "pre-built/pre-painted" SBD-3 display model that they have been selling for the last couple of years. That display model has many working features (i.e. spring loaded landing gear, moveable canopies/guns/wheels/flaps, etc.). They just transformed the display model into an injection plastic model you can build, that still includes the working features. Getting around the "working features" will create some challenges, but make no mistake-Merit has produced is an excellent plastic model (even for this large scale). This kit is in no way comparable to the 1/18 scale plastic model kits that Pegasus is producing. I bought their Bell X-1 aircraft, and promptly sold it on e-bay because it was a very plain, poorly made "toy".
The detail and accuracy of Merit's SBD-3 (in the box) is incredible, but it is not a perfect kit. As I build it I will highlight the good, the bad and the ugly. I will be as honest as possible, but I am a huge SBD fan, so Merit already has brownie points for making this. The kit is molded in light gray/clear and has about 325 parts. It was packed very well, with multiple mini-boxes to protect the more fragile parts. It includes metal screws (to help attach the main sub-assemblies), metal pins (for the movable connections) and metal hinges (for the movable wing dive flaps). The two main tires are black vinyl plastic. It includes parts for both a single and double .30 caliber machine gun(s) for the radio operator. It does not include any photo-etch parts or seatbelts. The kit includes decal options for two aircraft (listed below):
>SBD-3 of VS-2 (U.S.S. Lexington-May 1942)
>SBD-4 of VC-22 (U.S.S. Independence-1943)
My goal with this project is to only make minor modifications and additions. I just want to be able to enhance what is provided in the box, and hopefully help any other "Dauntless" fans that may consider building this kit. The main book reference I am using is the excellent SBD Dauntless in detail & scale by Bert Kinzey. Enough small "talk"…let the building begin.
1st Image: The excellent box art is shown.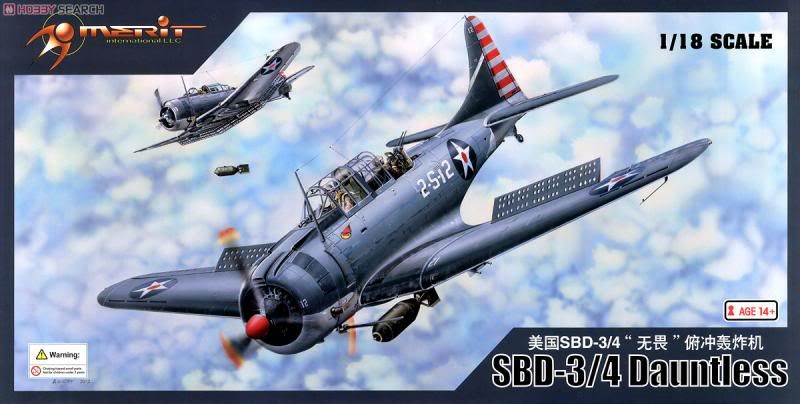 2nd Image: The kit's Painting and Marking Guide is shown. This has several errors, but shows the plane I am building.
3rd through 4th Image: White "12" (S/N 4547) was part of the first batch of SBD-3's ordered by the U.S. Navy in 1940, and 29th off the assembly line at the El Segundo, CA plant. It was eventually assigned to VS-2 (U.S.S. Lexington) and nominally assigned to Ensign John Leppla. He was awarded the Navy Cross for participating in a bombing raid against Japanese shipping at Lae and Salamaua, New Guinea on March 10, 1942. He was awarded a Gold Star (in lieu of a second Navy Cross) for participating in bombing attacks against a Japanese aircraft carrier at The Battle of the Coral Sea on May 7, and shooting down two Japanese "Kate" torpedo bombers while performing CAP duties for his task force on May 8, 1942. During The Battle of the Coral Sea he was credited with shooting down a total of four aircraft, and is considered one of the most aggressive pilots to ever fly a "Dauntless". After Coral Sea he transferred to VF-10 (U.S.S. Enterprise/CV-6) to fly Grumman F4F-4 "Wildcat" fighters. He was killed in air combat during The Battle of Santa Cruz on October 26, 1942, although he was credited with the destruction of a "Zero" fighter during that mission. The first photo shows the only image of White "12" I have been able to find, and the second shows Ensign Leppla with his Coral Sea rear gunner ARM3c John Liska.
5th through 8th Image: Did I mention the model is big? Boy is it big. It is about two inches longer in wingspan and fuselage length than Monogram's 1/48 B-17G kit! Sometimes photos do not communicate how big an object is, so I am showing a few parts beside a ruler and in my "average size" hand.
9th through 10th Image: These images show another perspective on size. The kit parts are set beside a Monogram 1/48 SBD-3 Dauntless (built long before Hasegawa or Accurate Miniatures were options).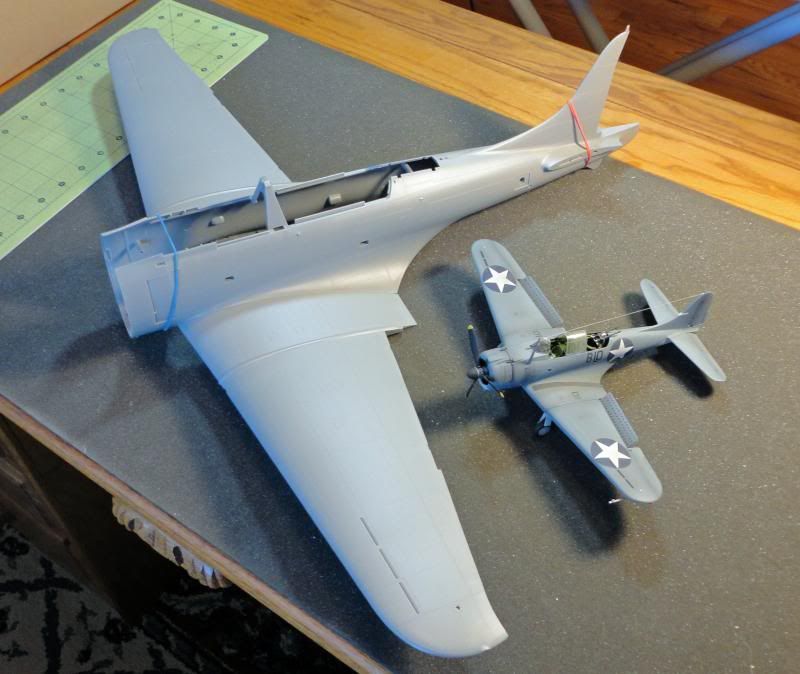 continued...