Hi Everyone
I've been reading the board for a few months, so I thought I would say hello properly by starting a WIP thread for my FW-190 build.
A little bit of background - I used to build models as a kid, strictly OOB, no references, tube of glue, one of my mum's nail files, whatever paint was called up in the instructions. I started a few Tamiya F1 cars in my twenties, but didn't finish them.
About a year ago, I bought the airfix red arrow starter set for my lad, and got him a membership in the Airfix club. The club magazine duly arrived, complete with info about the big new Mosquito kit.
Well, I could see that the kit was something special, and suddenly I wanted to get back into modelling again. I got the mossie for Xmas, but I know if I built it now I wouldn't do it justice, so I popped into the LHS and picked up the FW-190 kit as something to practice on. So right now I just have precisely one kit in my stash.
The plan was that the FW would be strictly OOB, just to experiment with all the new techniques (well, new to me anyway) like weathering, airbrushing, using Klear. I started with the cockpit and made a right mess of it. In the meantime I read some of the threads on here, particularly Kostucha (Mark) and vvwse4 (Rick), and they were a great inspiration to try to raise things up a notch.
So I'd like to take this opportunity to say thanks to those two and everyone else on this board - this is a really cool place :-)
Also thanks to junkers88a1, who found some great shots of the ammo boxes for me, and gave me a gentle prod to post some progress pics on this build, way back in January. Thanks man, and sorry it took me so long to follow up :-)
One last thing, I'm not really an accuracy nut. So if anyone sees stuff where I've used the wrong colour or something, you can point it out if you want, but chances are I just did it the way I wanted to do it. Maybe as I get more involved in the hobby I'll start to chase accuracy, maybe not. The main thing for me is to just have fun.
OK, so what you see here is actually my third attempt at the cockpit. The first two times I used a darker (more accurate) grey, but when I did a trial fit it was just impossible to see anything down inside the fuselage. So I ended up going for a lighter grey. I also ended up getting the Eduard PE instruments and sanding the kit parts smooth. I think the Eduard instruments are neat, but are they too small? They look about 1/32 rather than 1/24, there is just way too much space between the instruments. I used the MDC belts. I definitely could have done a better job painting them, but they were about the first bit I did. The pedals are the kit parts, but I sanded them from behind until the recesses became holes. They actually look pretty good in the flesh, this is one of the bits I'm pleased with. I added an oxygen regulator on the rear bulkhead, and a hose coming forward - not strictly accurate, the regulator should be recessed into the bulkhead and the hose should pass invisibly beneath the seat I think. But that side of the 'pit was looking really bare, so.....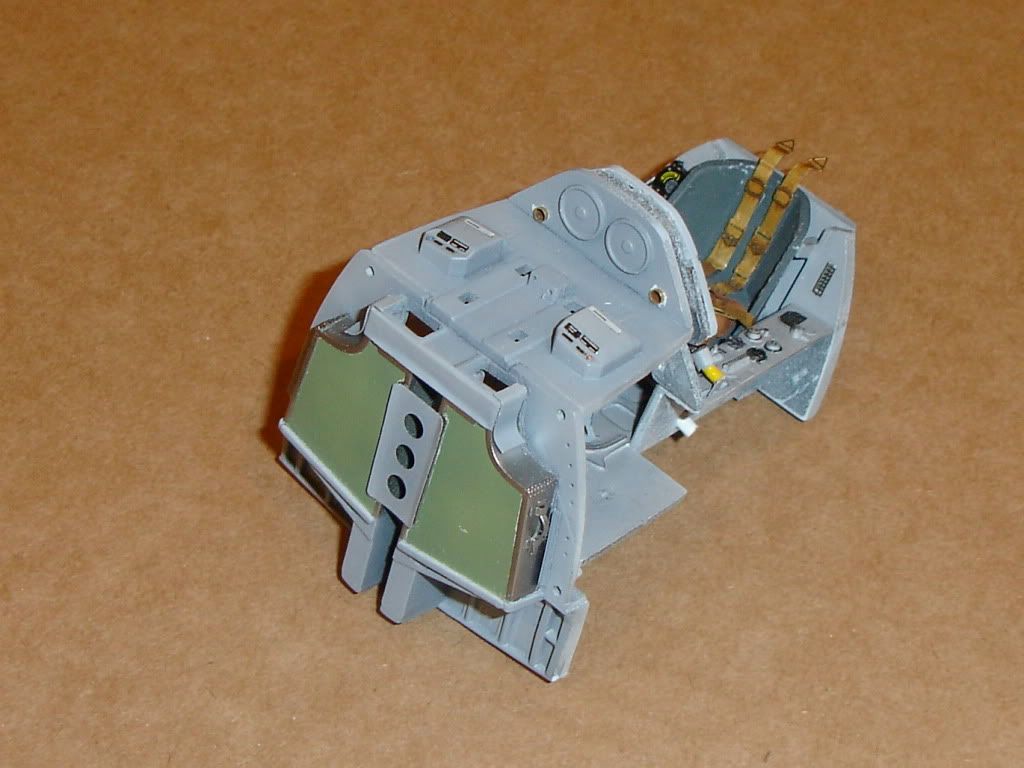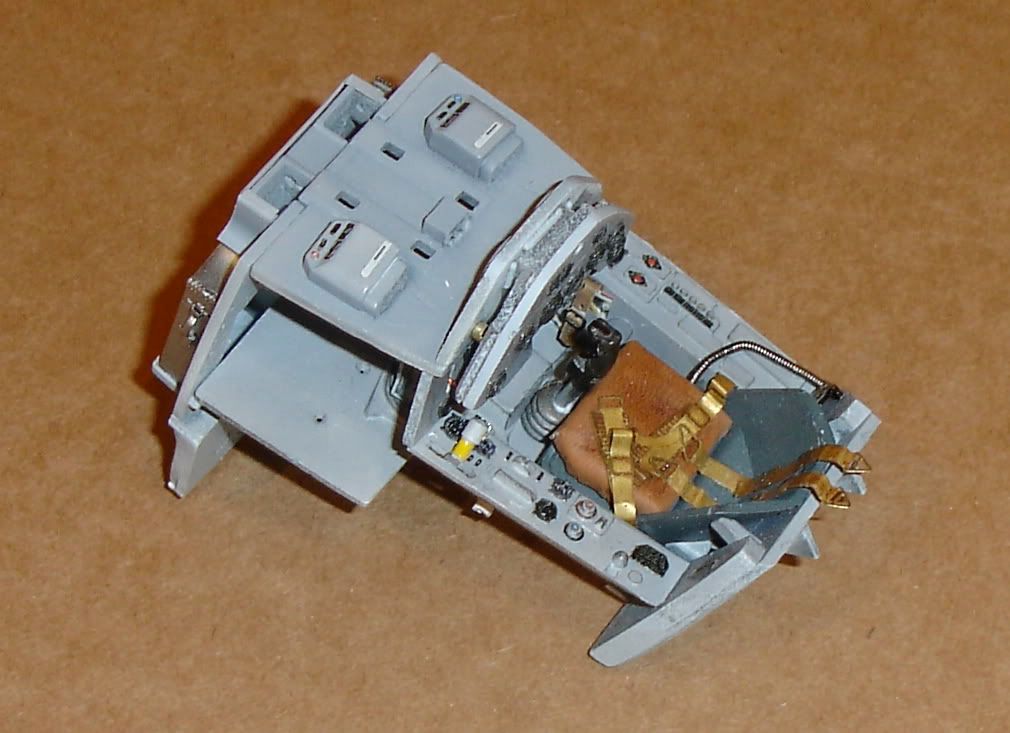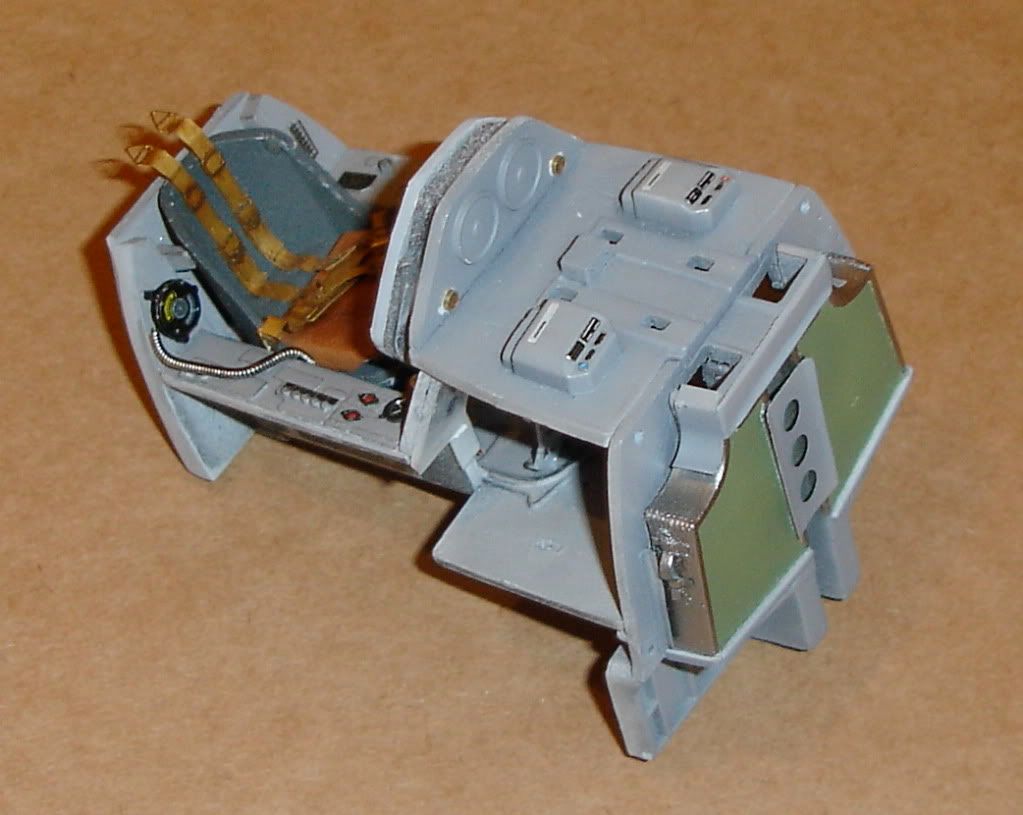 At some point I'll be adding the wiring for the machine guns. I'm debating whether to give the whole thing a coat of clear at this stage and add some weathering.
The plan is to have all the cowlings completely removed, as if the aircraft was under-going some major work on the engine or something.