Hello my friends:)
At this topic I will continue with something that here in BG we called patriotic modeling

When my country was the little brother of Soviet Union, we had the biggest AF at Eastern Europe

a lot of MIG-21, MIG-23/almost all modifications/, MIG-29,SU-17,19,25 , also MI-2,4,8,17,24, also a lot of transportation Antonov cargo planes . . . but now

Well now the present president of my country is ex-jet fighter pilot of MIG-29

so . . .
So we are proud with every one flying machine that we have in present days

One of them is the US Bell 206 B Jet Ranger /because now we are NATO partners

/
This sweet birdy is use for training of young pilots / lot of them girls

/ as you can see:
For this project I will use the 1/32 scale revell Bell 206 Jet Ranger :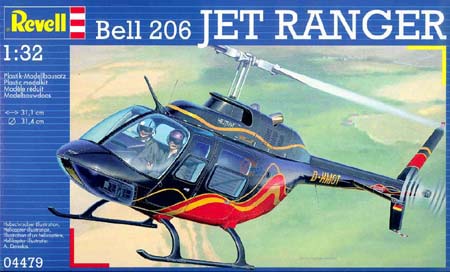 You can see the in-box review here:
https://www.super-ho...Jet-Ranger.html
This is very old model, cut of details, no panel lines or rivets, no aftermarcket for it

etc.
Which also means a lot of re-work, scratch-build , it will be a challenge

So wish me luck and let see how far this project will go

Cheers my friends