Hiya Folks,
I was asked to run a WIP here on LSP so please be gentle,..... I`m not up to the standard of most of the fine modellers on this site.
Well having already built one as a RAAF Mk.VIII,.....I enjoyed this new Revell Spitfire kit so much that I went and bought another one yesterday and started it as soon as I got home!
Unlike the Aussie Spit I shall be building this one mostly straight from the box, with the exception of the decals as I`ll be using Flevo Decals FD32-021 to build my model as a Jungle Green and Light Blue (MSG?) aircraft from 322 Sqn of the Royl Netherlands East Indies Air Force during 1949;
I`ve quite fancied building one of these ever since seeing this aircraft MH271, painted as MH424 at the Aviadome Museum at Amsterdam Airport back in the day,....this Spit is now at Duxford;
This is a nice painting featuring the same colour scheme;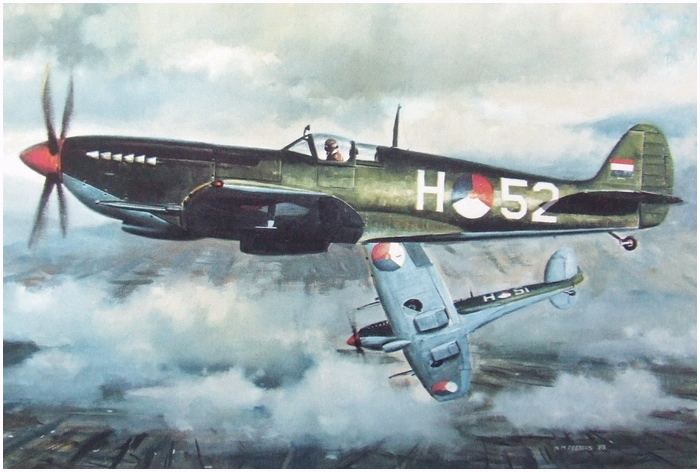 Anyway that is the intention,.....onto the model;
Here is the box art;
Here are the parts straight out of the box;
,
The fuselage halves;
The wings,.....these have the bulges in the upper surface found only on post war aircraft when larger tyres were fitted.
Under the wings the radiators are mounted level with the wings and are not semi recessed inside the wing,.... a mistake yes,....but one that I can personally live with;
Another poor area of the kit is the seat, I am thinking of maybe adding a pilot figure but have a feeling that this Tamiya Mustang pilot may be too large?
Tonight I`ve been pre painting the interior parts and assembling the cockpit,....I`ll add more pics in the morning,
Cheers
Tony
Edited by Big Tony, 12 April 2017 - 12:56 PM.