Hi everyone,
After reaching the pinnacle of my modelmaking goals and winning Senior National Champion at the 2017 IPMS Nationals with my Spitfire, I have been wondering what to do next…
What could possibly top that feeling – well maybe nothing, but just maybe it might be having another shot at it in a few years with another project.
After a bit of a slump and an attempt at a scratchbuilt Fairey Firefly, I have settled on something that has lit the fire again and in fact is very similar in approach to the Spit. I asked Mirek at HpH to run me off one of their bespoke 1/18 subjects – a P51C as again I could do a natural metal skinned finish, references are abundant and there are restoration subjects that have been documented that fill my need to understand an airframe inside out.
One of those restoration subjects is Lopes Hope a P51C-5-NT that Aircorps Aviation in Minnesota have just put back in the air. I was so blown away by the photographic records they kept and the absolute commitment to accuracy they employ that I wrote to them asking for more info about the airframe. I was stunned when their VP wrote back offering to share info, permission to use their photo's in my build log and even a small part of a real P51 to include in the model somewhere! They are the same guys that host the Aircorps Library which is an incredible online resource offering for a nominal membership fee access to all the factory drawings and manuals for a range of seminal aircraft.
Their notes on this P51 and why they chose it echo my own:
"Lope's Hope 3rd was a P-51C flown by Lt. Donald Lopez. Donald and Lope's Hope 3rd served in the China-Burma-India theater with the 14th Air Force, 23rd Fighter Group, 75th Squadron. The 23rd Fighter Group was the descendent of the famous American Volunteer Group or Flying Tigers after the US entered the war. Lt. Lopez had 5 victories in China and went on to become a test pilot in the early years of the jet age. Later he was the deputy director of the Smithsonian National Air and Space museum until his death in 2008. Donald Lopez was instrumental in the construction and opening of the National Air and Space Museum.
The original wartime Lope's Hope 3rd was a P51C-5-NT, Army Air Force Serial Number: 42-103585. The serial number information was just acquired through the generous contribution of pages from Lt. Lopez's war time log book by his granddaughter Laura Lopez. Normally a WWII fighter's serial number is easily determined by just looking at the tail number. Squadrons in almost every theater of operations number planes this way, but not in China. In China the 23rd Fighter Group's squadrons were assigned a block of numbers for differentiating their aircraft. The 75th squadron's block was 150- 199 (or to 200 depending on source). Lt. Lopez used 194 on both his P-40N s and on his P-51C , Lope's Hope 3rd. Without his log book it might have been impossible to figure out his Mustang's AAF serial number.
Our restoration airframe is a P-51C-10NT Army Air Force Serial Number: 43-24907 , that remained in the continental US during WWII and was used for training purposes during and immediately after the war. The decision to paint her in Lt. Lopez's color scheme is intended to honor him and his service to his country in WWII and to aviation all his life."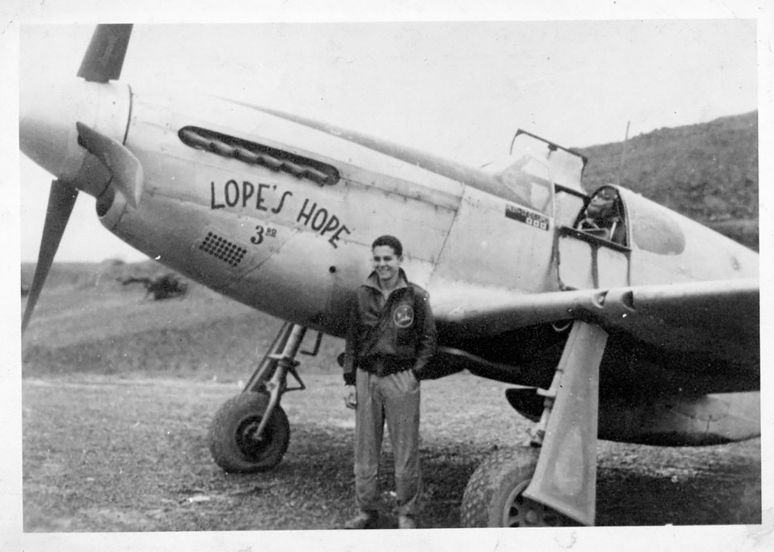 I also think it is one of the most attractive early model P51 schemes out there..

..and to show the kind of reference available through Aircorps Aviations website, these are a few shots that show how a part restored airframe (and this one was done from the ground up) is such a valuable asset to modellers – there are details recorded in pixel perfect clarity that you just wouldn't see unless you were in the factory when it was built..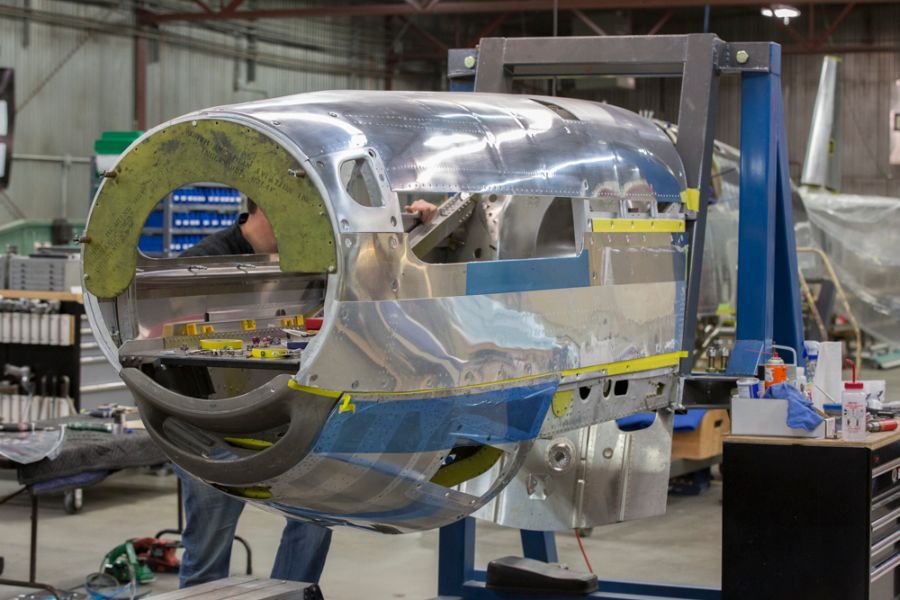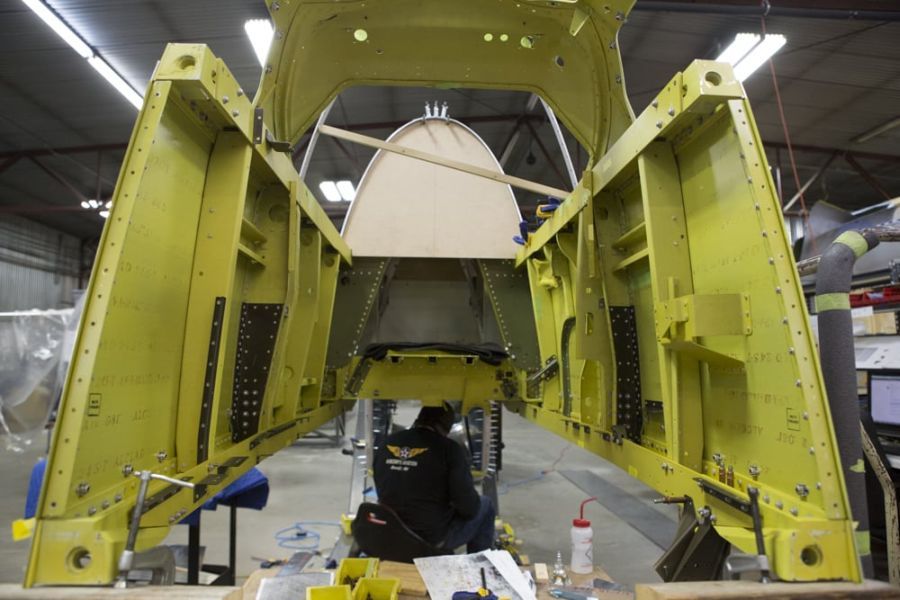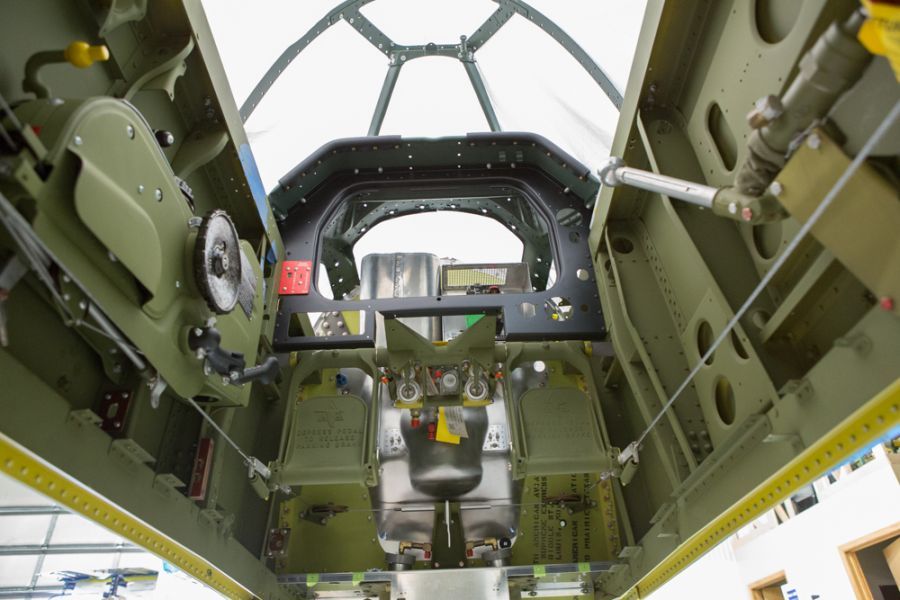 When you marry this with the document archive, it means I can go to the P51C parts manual, find the part I want to create and in the manual is listed every part number so I can ID a fuselage frame is part 102-31156 for example..
From there, I can search the library for that part…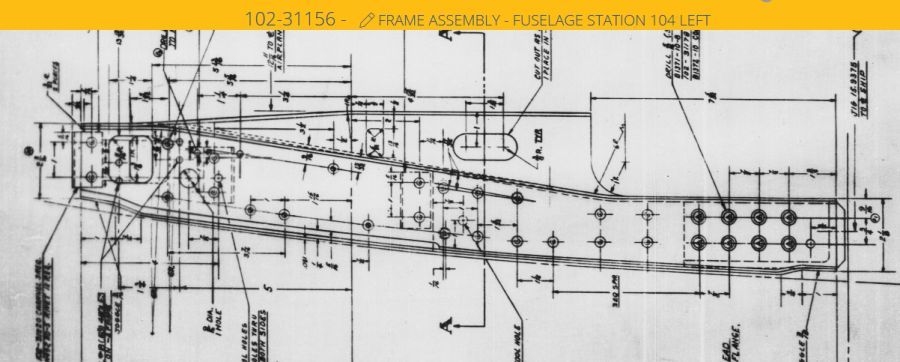 ..and from there create the part in Coreldraw for photo-etched parts to be made – here this part has a thicker core (in red) and then laminates with etched relief detail on them so when all assembled they will reflect the real part perfectly..
..at this stage I am still doing lots of this translation work and creating what will be hundreds of PE parts to detail out the model..
..lots of cockpit construction parts..
..instrument panel bulkheads..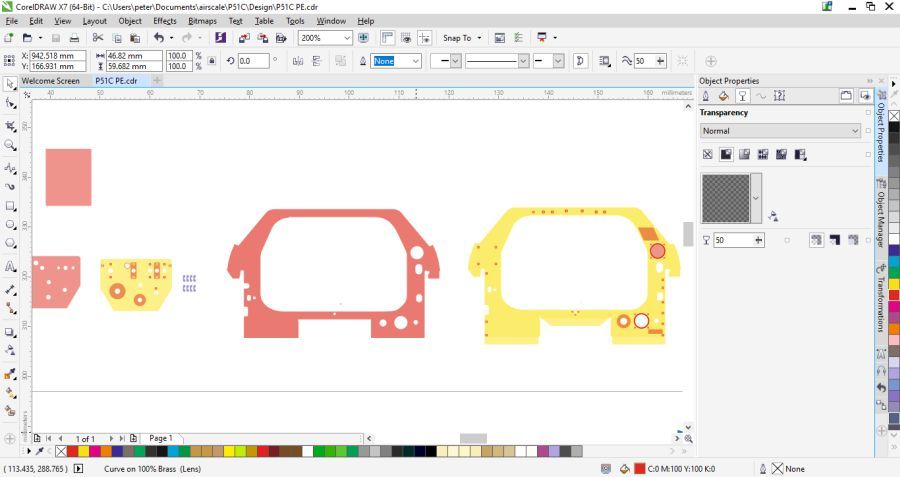 ..fuselage bulkheads..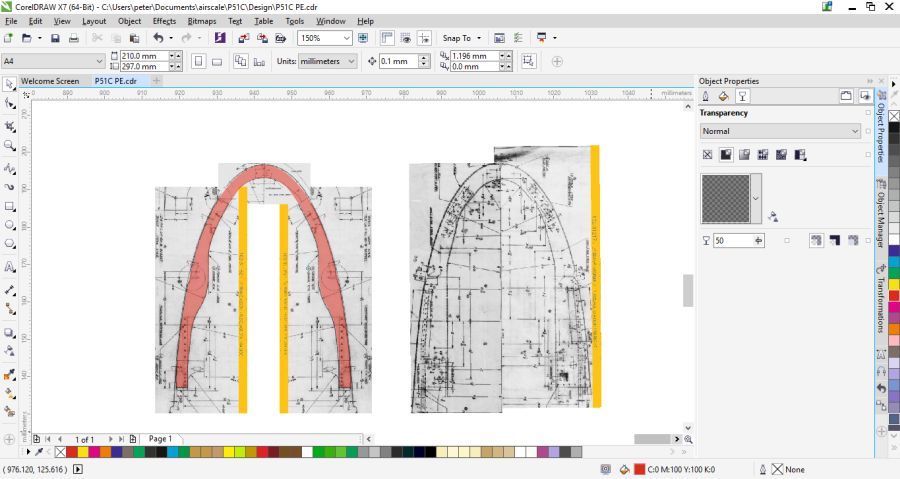 ..the instrument panel is a layered structure..
..and what will become a bespoke set of decals for all the markings & placards..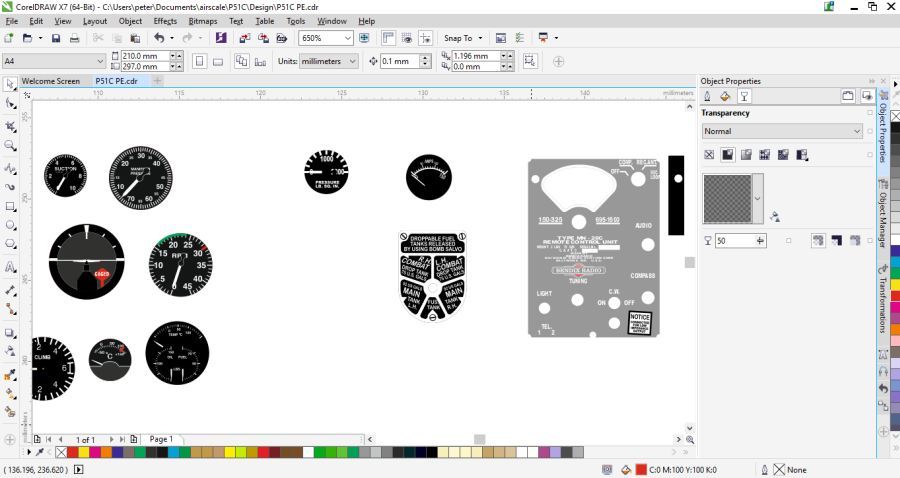 …more