Next 1/32 AOA sheet (32-016) release is a little different as it covers one specific F-4J Phantom (BuNo 155887) as she appeared during three Vietnam cruises while with the same squadron (VF-143 Pukin' Dogs, callsign "Taproom") and also same modex each time (102). Not a MiG killer, just one example of the many, many other Phantoms that took part in the war daily. The Pukin' Dogs Vietnam F-4B's have been covered in decal form before (again, because of MiG kills), their later wartime F-4Js have been neglected until now. Sheet covers the Vietnam/WESTPAC cruises: USS Constellation 1969-70, USS Enterprise 1971-72, and USS Enterprise 1972-73. Among others, thankfully received help from 102's own plane captain Tom Chergi from the 72-73 cruise.
For the 1972-73 cruise, this aircraft also bore the name of 143's XO, CDR Harley Hall, who sadly become the last Navy combat loss on 27 January 1973 flying Taproom 113 (the day the Paris Peace Accords were signed) and last American to be listed as POW. While his RIO was later released, there is still controversy and contradictions surrounding the ultimate fate of CDR Hall. If anyone saw the 1975 documentary "Threshold - The Blue Angel Experience", this was filmed during CDR Hall's time when he was the Blue Angels flight leader and as such is featured in it.
Back to the sheet: Unlike vast majority of AOA releases, only minimal stenciling/common markings are included, such as the different ejection seat warning triangles used for each cruise, static port stencils, national insignias, and two styles of jet intake warnings and RESCUE markings. F-4's were liberally covered with stencils and is too large of a project to be covered for this release. A full F-4 stencil and panel number decal sheet may be a future release from AOA (not currently planned as of today).
The sheet also includes fuel tank and FOD cover squadron identifiers.
Now in stock.
Printed by Cartograf.
Price $22 (free shipping in the US)
www.AOAdecals.com
(Click image for larger view)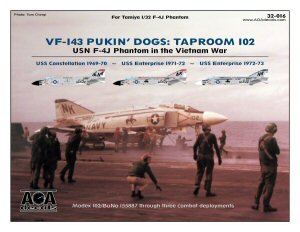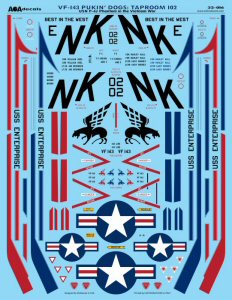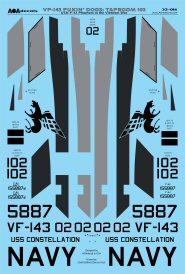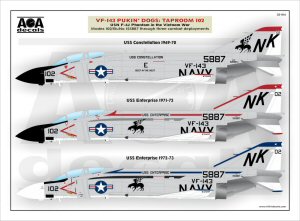 Edited by ziggyfoos, 26 July 2016 - 07:52 PM.