Thanks Guys.
A few points before I get started if you can please indulge me.
1) Although I will try to make this bird as accurate as possible, I am not a big stickler for exact details as I used to be. Beauty trumps accuracy all day long for me recently, which is why I stuck an A-10A cockpit in my A-10C build 2 years ago. The Cutting Edge A-10A cockpit is the best resin cockpit I have ever seen, so it stayed, right or wrong. More on that later as you will see.
2) I am always looking for tips, especially from you guys who have built this model before and I am always open to new ideas. I have some questions already at the end of this post.
3) I may or may not take your advice. Please don't take that as a slight if I don't, because I am always weighing the work involved vs. the potential improvement. Sometimes I just punt and move on if I don't think the effort is equal to the reward.
4) If I screw up, please let me know publicly. I'm a big boy and I'll never be perfect, so pointing out my errors might help others. Conversely, I might not have made an error, so it gives me a chance to explain.
5) Like most of you guys, I build in spurts, so if I don't post for a month, I haven't given up on the build. I don't have a "shelf of doom" yet and I don't plan on starting one any time soon.
6) I will be referring to Jake Melampy's "Modern Eagle Guide" a lot as I go through certain details and any technical stuff I yak about will be straight from Jake's book. I freely admit that I know almost NOTHING about the Eagle and I'm not showing off with my technical know how.
So here we go. As shown in the first post, I have both the Aires and Avionix (formerly Black Box) resin cockpits. Aires is famous for excellent resin detail that doesn't fit and it invariably is too short in one direction or another, which is usually easy to fix. BOTH resin cockpits have horrible instructions, so a lot of construction is hit and miss. Here's the Aires pit, which is for a "Late" F-15C.
Here is the Avionix one and I'm not sure if it's an early or late version, but it sure has a lot of parts! I'm liking this pit already for ease of painting and detailing.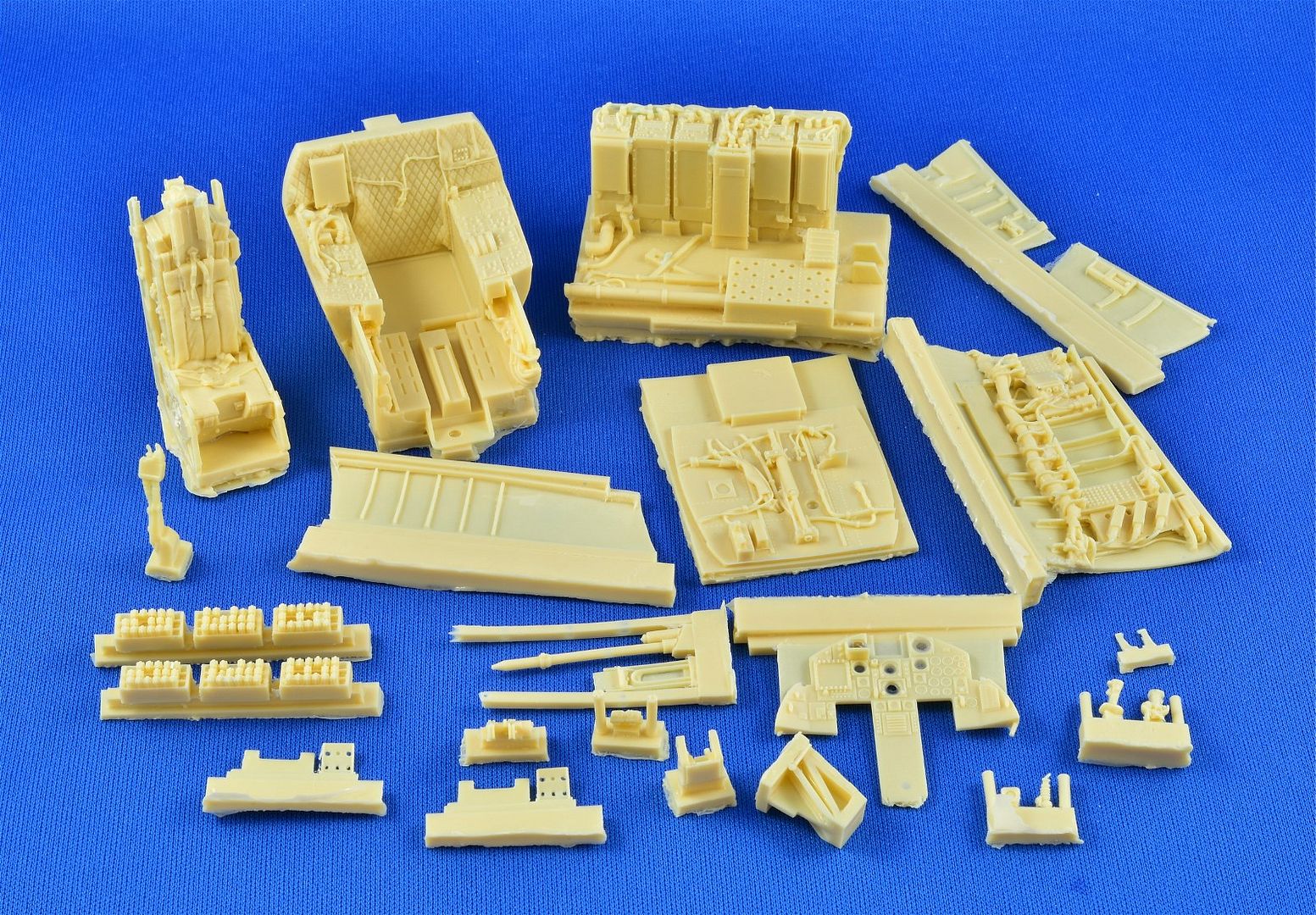 Now some close-up side by side comparisons. Notwithstanding that the Aires resin has missing handles on the Internal Counter Measure System (ICMS) components in Bay 5 (See, I'm quoting Jake Melampy already!), the Avionix resin on the bottom is a lot more detailed. Handles are added later using wire.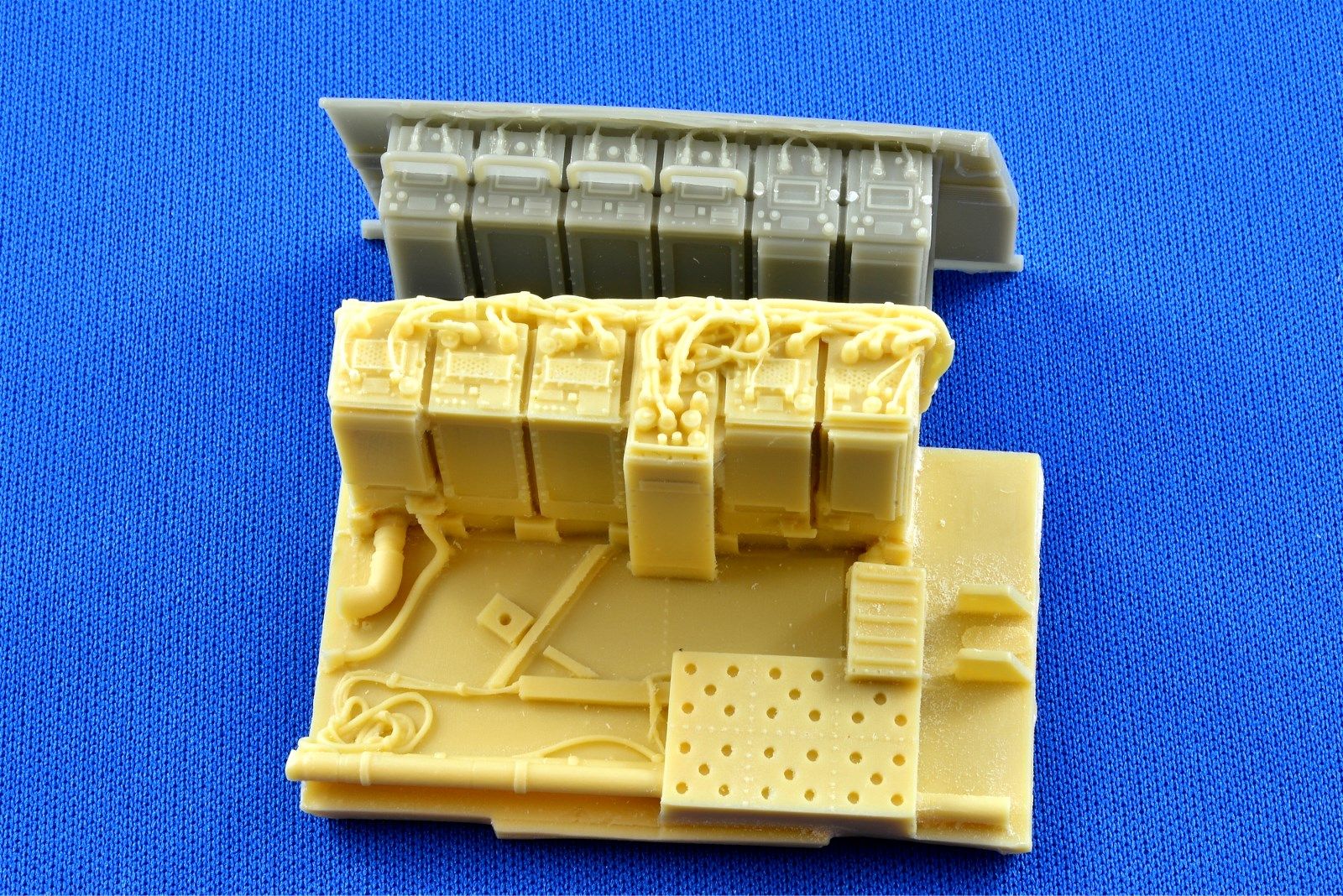 Front cockpit is sort of a tie. The Aires pit has nicer throttle handles (Avionix are separate), but the Avionix pit has a more detailed oxygen hose spaghetti on the right.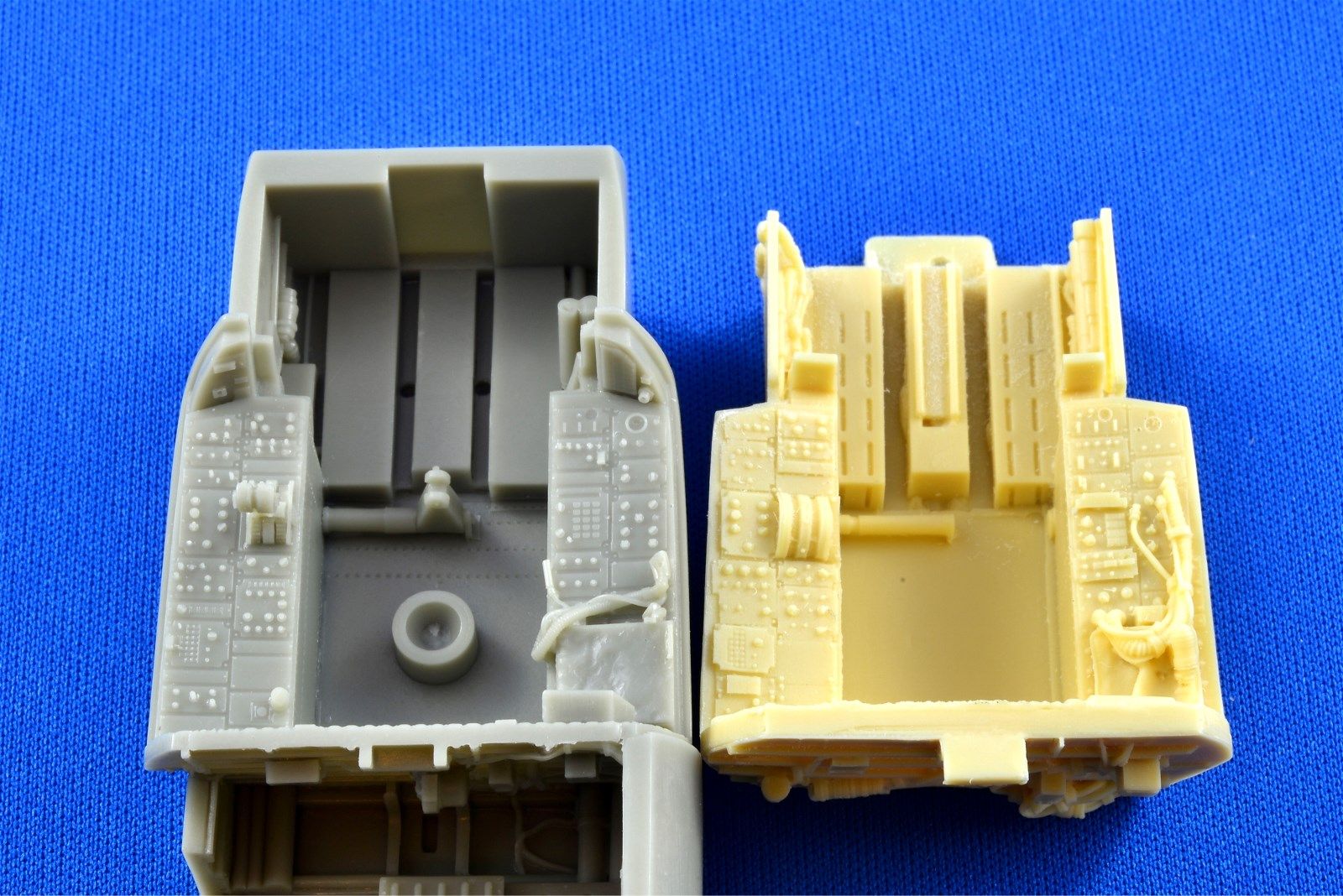 The Aires front instrument panel, however, blows away the Avionix one which is not even as good as the kit part. Further, the Avionix pit doesn't have the detailed glare shield/coaming.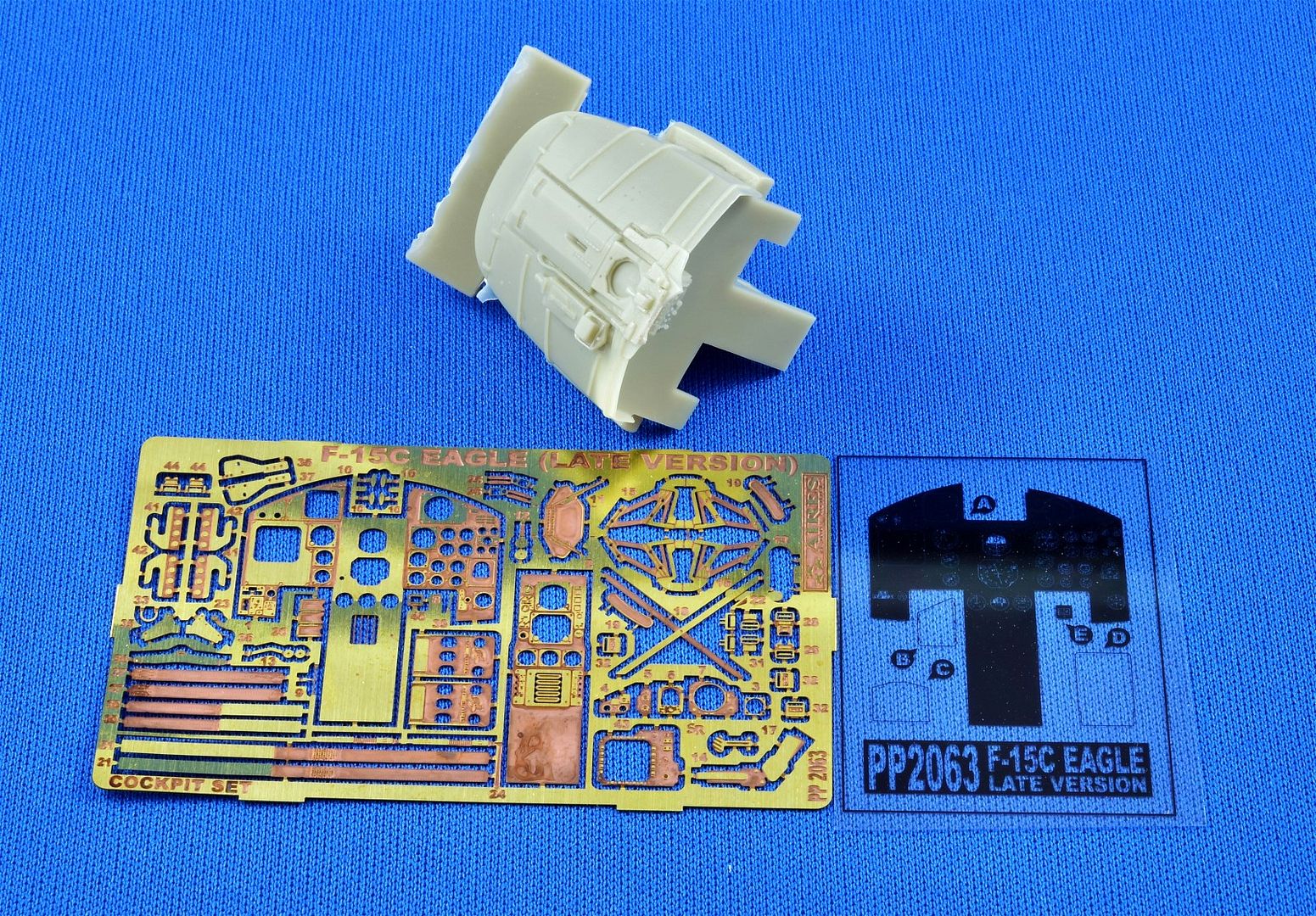 The Avionix seat is more detailed, but much harder to paint the tiny detail like seatbelts. The Aires seat has separate brass seat belts and other bits on the previous pic, so the nod again goes to Aires.
With the above info and already knowing that the Aires cockpit is a bit short front to back, I will be using a composite of both the Aires and Avionix pits. I will use mostly the Avionix pit, but I'll use the Aires instrument panel /glare shield and the seat. I might even use some kit parts and I will definitely be adding some scratch built parts and plumbing here and there.
First order of business is to remove the side wall detail from the kit parts. I find that using a sprue cutter to get off the big chunks off followed by this sanding bit in a rotary tool works best. Avionix cockpits are famous for being too fat with the side walls attached, so I will no doubt be doing some more grinding of plastic and resin later to keep the fuselage from swelling.
There are not many things I truly hate in modeling, but cutting off big blocks of resin is surely one of them. It's very dusty and dirty and it's hard to handle the parts without ruining fine detail. After the majority of the base block is cut off with a razor saw, I rub the base on a sponge sanding block to smooth things out and erode a bit more resin as required.
Dry fit on the kit front gear well the cockpit sits on, the front and back parts fit within the front fuselage reasonably well.
Edited by chuck540z3, 23 February 2016 - 01:45 PM.