With the permission of the people in charge of the group build, I would like to start another project (since with all the work the Raiden will need it's possible I may not finish it and I would like to complete something someday).
The story behind this kit is it was purchased when I HAD to have EVERYTHING produced in 1/32nd scale. As my 45th birthday approaches and I look at the over 500 kits (including a 1/128th fiberglass, resin and brass KM Bismarck) I realize I won't finish what I have and while Japanese Naval aircraft are high on my list of interests (actually the whole pacific war is an interest) Japanese Army planes are not. So this kit went into the sell pile but unfortunately I had used the wings for a demo I did at a model show on salt weathering. Can't sell it on ebay so I offered it to a friend but his interest in IJA A/C is less than mine so I said well whoever gets the inkling first. This group build gave me the inkling first.
Here is the work done on the cockpit. Unfortunately the pictures don't show the detail done. I painted it Model Master olivgrun Acryl (since looking into the proper color led me on a chase that culminates in lots of options). Then I whipped up a shade of pastel dust made from yellow, white and black to make a lighter olive color. I added a few drops of water and 'painted' this goop on the cockpit parts, and then after a few minutes, scrubbed most of it off with an old toothbrush. This gave a nice discoloration to the finish. Then a thin black wash for shadow and a heavier brown wash for dirt, drybrushing with oils mixed close to the shade the pastels were. I then picked out the details like the knobs and instruments that were other colors and finished with some steel drybrushing and dotting to simulate paint chipping. I'll try to get better pictures.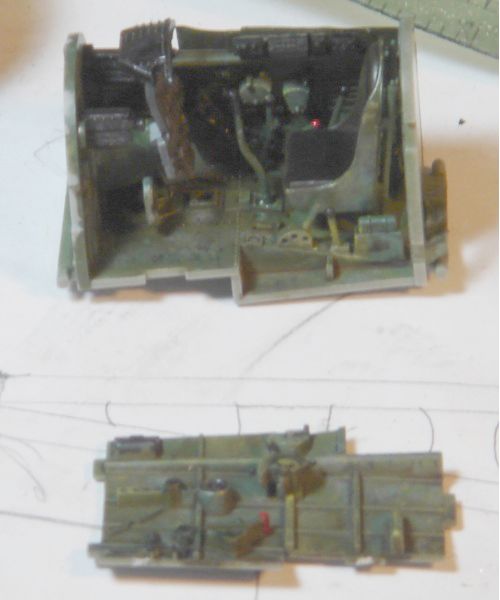 Someone posted that there will be a fleet of Oscars. I think Franks will outnumber them!