Well the electrostatic device that makes the "grass" stand vertically arrived only yesterday, so no experiments last week ...
In the meantime, not very exciting (but still aboslutely necessary) work has been going on: sand and fill, and re-sand, re-prime, re-re-sand and fill and re-re-re-resand, re-re-prime, then first layer of white (Tamiya white primer - oustanding coverage and very fine, in pots or rattle-cans)) then sand, then fill remaining blemishes (plus the nasty hair-thin crack that opened on the top of the fuselage just ahead of the fin

), then re-re-sand, than second layer of white primer, than re-re-re-sand (this time mostly with Micromesh ) then third layer of white, then - you guessed it - re-re-re-re-sand with Micromesh and polish with a cloth-wheel in the mini-drill ...

It is now looking OK, and smooth, with just a few small blemishes to adress still (the same hairline crack appeared on the bottom fuselage at the joint between the two halves

)
I have also continued working on Sadi. The hat had a third (and last) go at its bowl. Then some paint on with acrylics and oils. I am not an expert at figure painting (my previous - and first - try was 40 years ago on Napoleonic Guard Hussar), certainly not a Jerry Rutman. Here is the result of my efforts to date. Some touch-ups still needed when the oil paints have dried, the mustache to correct, the eyes-surround as well, the socks, matt-varnish etc... It looks passable in my eyes through the Optivisor, but macrophotography is a pityless judge

... (besides cleaning the figure of the dust and fiber particles) ... The last pic has been cleaned (after I saw the first ones) with a stiff brush ;; slightly better, but nothing to stand-up in the middle of the night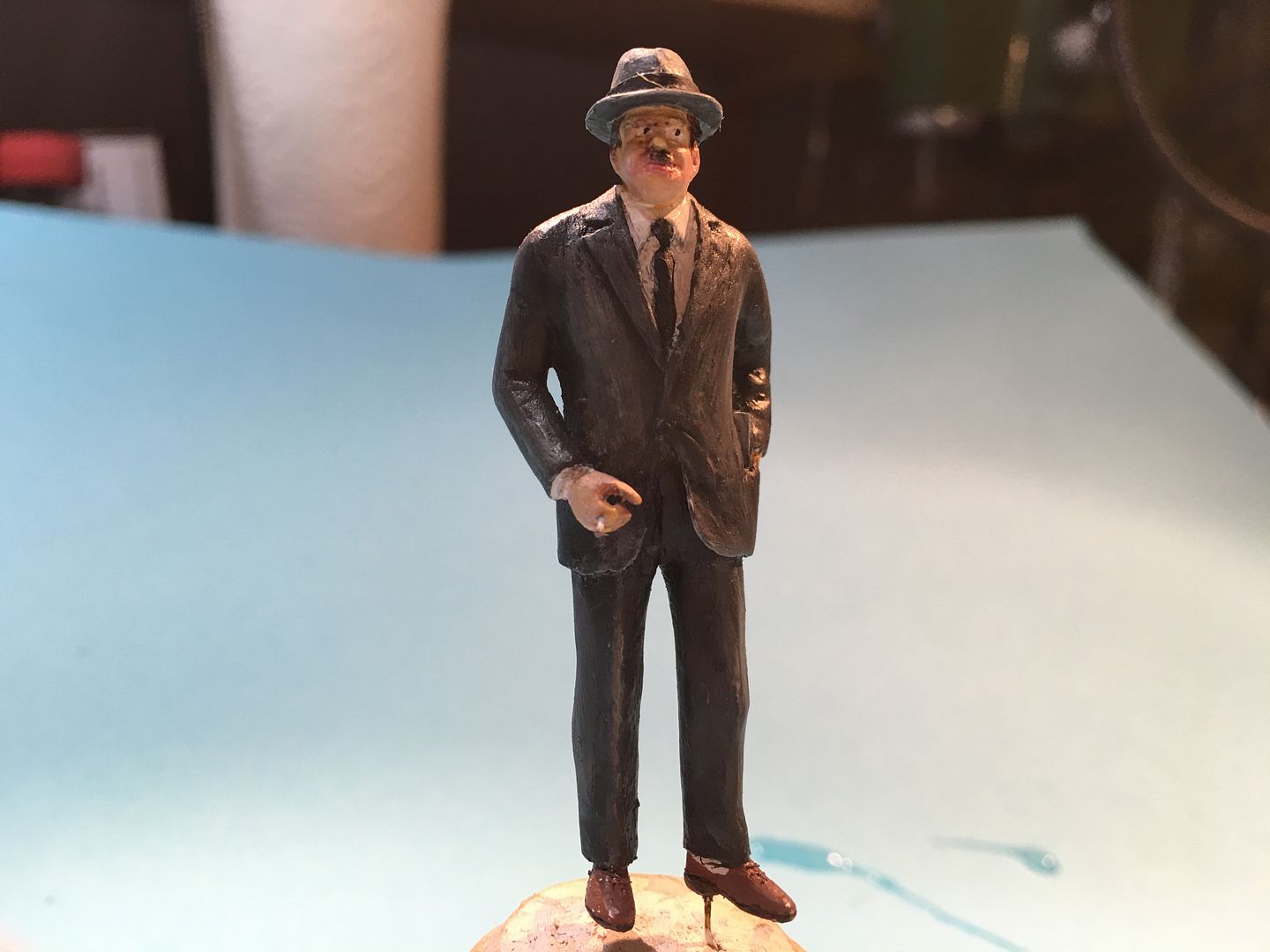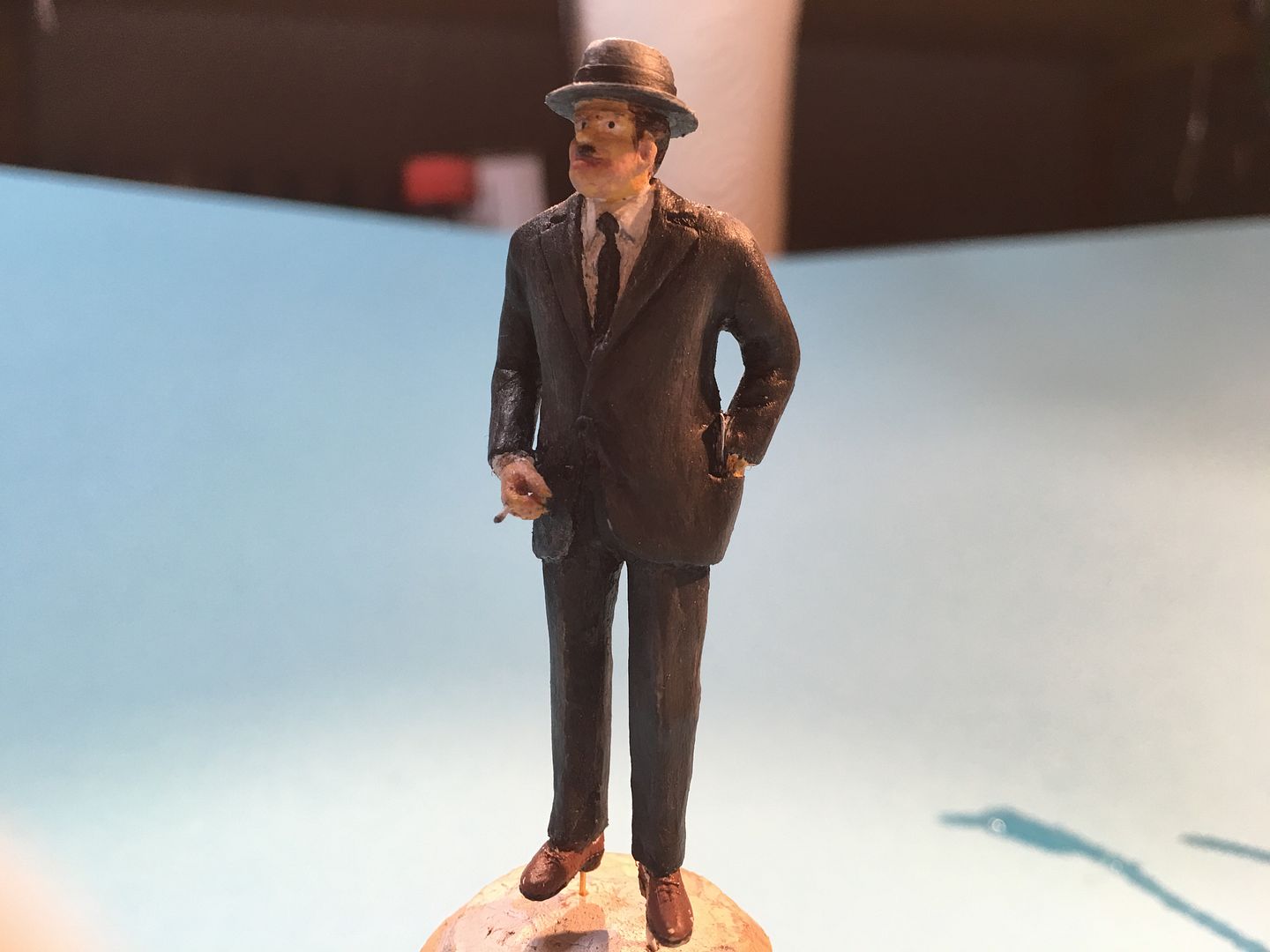 Anyway, onward and forward. Time to mask the white in order to splash some grey, then some black (I will try to emulate Eric's technique of "mottled" black, hence the need for a consistent grey background, then some aluminum on the cowling ...
I have also cut a mask in Tamiya paper on my Silhouette cutter, for the #6 on the fuselage sides. I tried to cut a fine stencil with the Nieuport Delage logo, to mask the white on the rudder before spraying it in red. If you look at the pic Nicolas posted in this thread of the profile of "6" (on page 2), and other pics, a very fine text can be discerned on the rudder. On later repaints of the # "7" airframe it appears it was the Nieuport Delage name. Now the stencils were far too fine for the Silhouette, and I ended up with mashed paper and a clogged blade from paper particles. On to plan B, then whic is to print a decal of the rudder with the Nieuport Delage name in reserve in the middle of the red. The challenge will be to have a prointed red that is close enough to French flah red, and can be replicated with paint for the rest of the fin, elevators and tailplanes. Why "French flag red", you will ask ? 6 had a red tail, and 7 a blue tail, on white airframes. My working assumption is that, in 1921, with the exacerbated patriotism after "the Great War", the colors white-red-blue would necessarily remind of the French flag
Thanks for looking
Hubert