Chuck just convinced me to hang out a little more on LSP, so here is the opening of my next project, a Heater-Ferris Phantom!

This is the exact aircraft I will be building:
http://www.cloud9pho...ale/i-wp7R4Zs/A

... although I will load her up heavily with the LAU-10's and Mk.20's as already prepared in my now defunct F-4J build. There are some nice pics on the web showing VMFA-112 jets flying with live Mk-82's to the bomb range, so I think it's not too much of a stretch to really load this F-4 up:
http://smg.photobuck...mb_Run.jpg.html

Before starting construction, I thought I'd start a little storm in a teacup by hypothesizing that much of the common knowledge of Heater-Ferris F-4S colors is somewhat wrong. Here is what I mean (original pic is from Wikipedia and has no apparent copyright):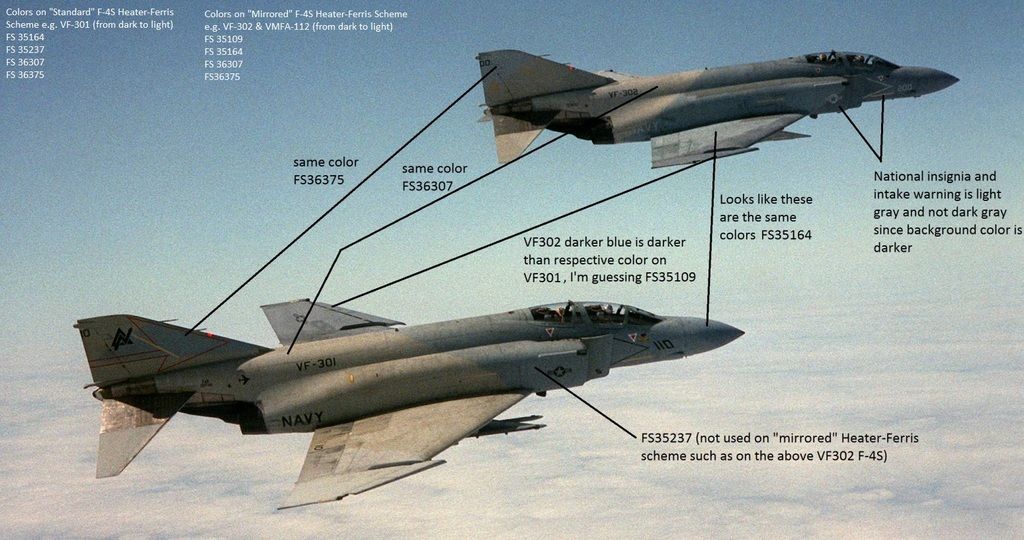 I have spent many, many hours looking at Heater-Ferris Phantom pics and at this stage am pretty sure of the above, that is that the "mirror image" of the standard F-4 Heater-Ferris scheme used slightly darker blue-grays (the lighter grays are consistent).

This is a good overview of the Heater-Ferris scheme on VMFA-112:
http://www.cybermode...4_profile06.png

I will be doing "03" and not "04", there are minor differences on the camo boundaries between the two. And as noted above, I believe the color designations are slightly off on the above drawings (should be FS35109, FS35164, FS36307 & FS36375 from left to right in the top view), including the colors of the intake-side stars & bars and intake warnings (should be FS36307 and not FS36375 at least for "03").

In other Phantom news, I really like what Scale Aircraft Modelling did with their March cover:



Since it's my Chico I'm very partial to the cover anyway, but the SAM guys very much make things come alive imo.

Much more to follow.

Marcel
Edited by Marcel111, 02 August 2017 - 07:18 PM.