My name is John and I have a build that I would like to share here on LSP. I've been awed by skill exhibited the modelers here and have been reluctant to post here. I've been taking baby steps toward this community... posting a few builds in RFI... sharing some 1/48 scale work.. showing my Black 1 Dora build after the fact. But I think I it is time to step in with both feet. This seems to be a good place to learn and grow and I am always looking to learn and become a better modeler.
Here are the main components of the build.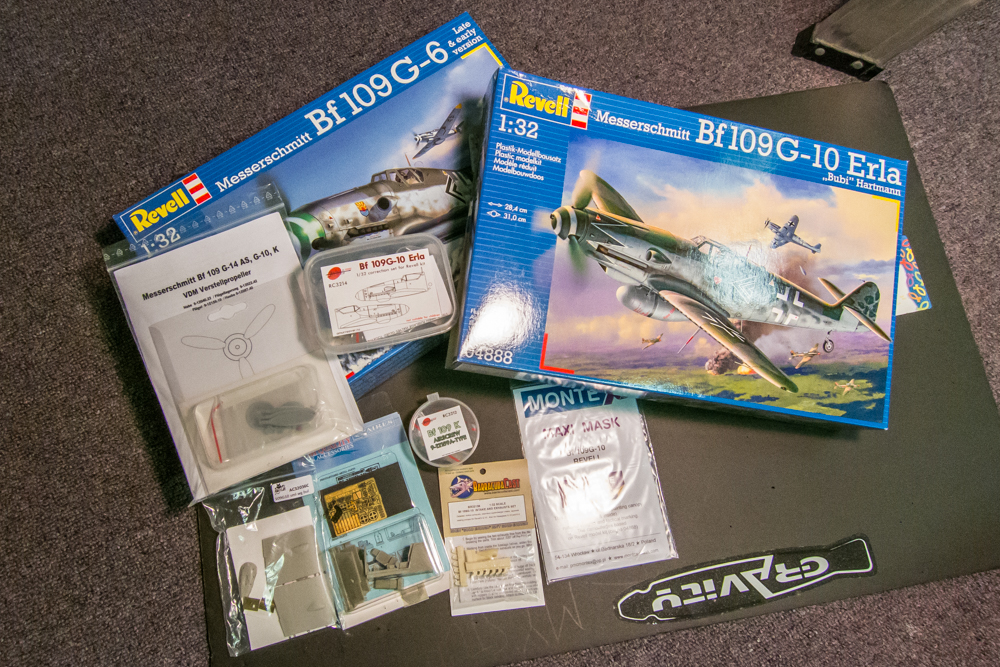 On the Ready Line:
Revell 1/32 Bf 109G-10 Erla kit
Revell 1/32 Bf 109G-6 kit
Aires Bf 109G-10 Cockpit set for Revell kit
A.M.U.R. Reaver Bf 109G-10 Erla Correction Set
A.M.U.R. Reaver Bf 109G/K Spinner and Prop Blades
Barracuda Studios Bf 109G-10 Intake and Exhausts
Montex Maxi Mask for Bf 109G-10 Revell kit
On Standby:
Alleycat Models Small Wheel Well Bulge Covers for Revell kit
Henri Daehne Bf 109G-10/K VDM Prop kit
I think I will be doing an Erla G-10 with the small wing bulges, hence the G-6 kit. I've built this particular kit before so I am going to dispense with my customary sprue tour and jump straight into a look at the aftermarket parts. I am very close to completing my Dora so this build will get started soon.
Edited by Thunnus, 17 April 2018 - 08:00 PM.