Ok, I am a strong proponent of this GB, and feel my fellow modellers should sometimes be ready to move out of their comfort range of guns-and-bombs-bristling-camoed-WWII-fighters

!
I therefore hope this thread will be an encouragement for them to try something different, just as I am doing here. If you know me, or have read some of my posts, you will know that I have always professed NEVER to build a Spitstang or Messerwulf, and that my stash has more resin and esoteric injected plastic than most would consider lawful

But only fools never change their mind, so here is (another) entry from me in this GB, AND my first Tamiya kit ever , AND my first Spifire ever! Now if this is not a proof of the bad influence of LSP on my firmly-set beliefs, what will be ?
So here is my entry, with the compulsory "starting shots" and comments, more to take a date, as I have another one to complete in the "Jurassic Plastic" GB first, but I am now commited

:
Tamiya's (gorgeous, I reckon, from fondling the sprues) Spitfire Mk IXc
It will be built as the famous MH434, in its G-ASJV silver, white and blue livery. No guns, not a hint a Dark Green or Ocean Grey or Medium Sea Grey ! ( I am willing to "compromise" my standards, but not to that point, guys, besides the explicit GB rules ! )
And even though it can be built OOB from all the threads I have read here, i have added a few AM, that I hope will improve on the fantastic kit base:


RAM decals RAM32-002 "G-ASJV" decals sheet - that was the minimum for the entry anyway


Yahu Models YMA3220 Spitfire Mk IX early instrument panel, which is the absolute bees knees when it comes to finesse of details


some BarracudaCast replacements : the rock covers with the Rolls_royce logos, the 4-slot maninwheels, the door with the separate crowbar (which was possibly red in G-ASJV livery times ), the seat with leather backpad, the starboard cokpit sidewall, and finally the cockpit upgrade set with finer-than-the-kit details such as the control stick or throttle quadrant


and finally, a RB Productions Sutton QS QL QP, which I conjectured would have been fitted on G-ASJV when she was sporting her blue/white/silver livery.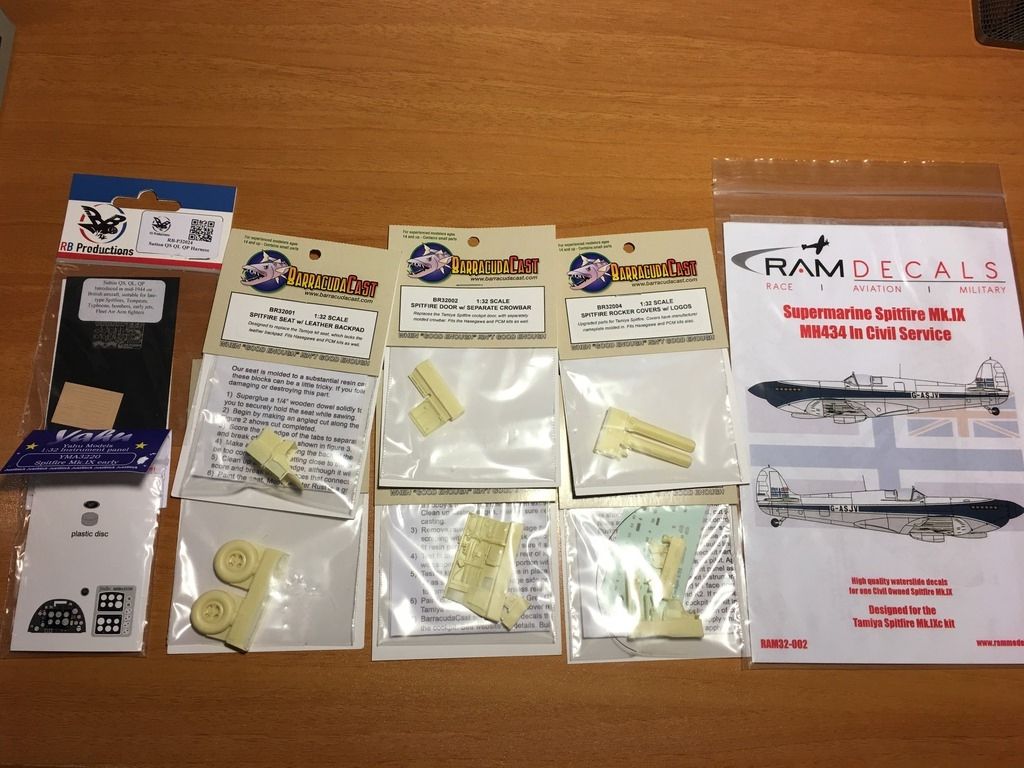 And finally, if you ask about my "Spirit of Africa" build thread here as well, it is not forgotten, and will be continued. I felt however that interjecting an "easier" kit could be a good boost to my modelling time and possibly to the interest of this GB for my fellow LSPers.
(As as side comment, I just hope that life will be more gentle for my modelling than the last week (although it looks pretty grim right now) and will spare me some bench-time in the near future. and btw, my Gee Bees build on the "Jurassic Plastic" GB has progressed, but I need to oragnise and write-up the description of this update, and that will not be before another 10 days I suspect)
Thanks for enduring my ramblings

!
Hubert
Edited by MostlyRacers, 28 January 2017 - 07:35 AM.