Ok guys, I am going to take the plunge on my "Jan" P-51D build and go for my take on a NMF. I have never used Alclad II so I have a few questions in the hopes I dont ruin my "masterpiece"......practice shmactice....
So I have been spraying a test panel with some different paints, colors, clears...here it is...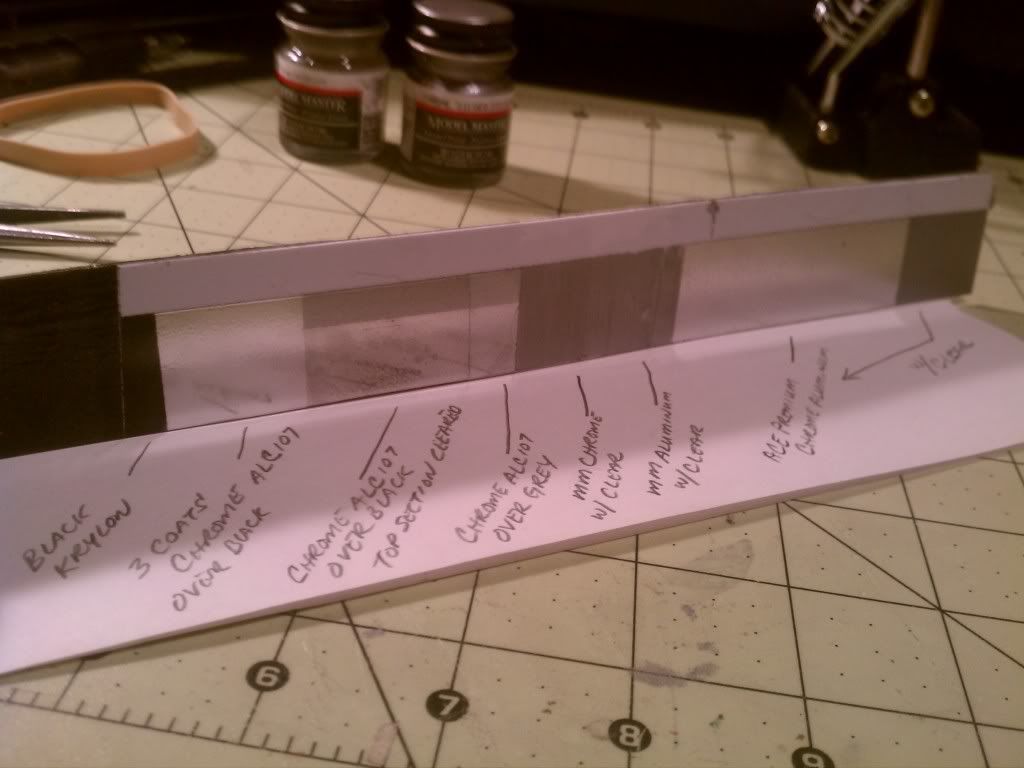 The Ace Hardware Premium Chrome Aluminum looks nearly as nice as the ALC107, but hates fingers, tape and clear......(but cleared is a really nice color that may end up on the wings)
I want to use Alclad II Chrome ALC107 on my Mustang's exterior where NMF is applicable. I will probably be alternating black and grey undercoats for some panel color contrasting, and I also noticed the more coats the less it has a mirror effect, but does not loose the metal look. So I will probably load it up a bit as I dont want a high polished look. (I may even try adding a bit of Aluminum ALC101 to it and spray another panel) I did notice (as you may also from the pic) that clearing certainly changes the look of these metalics.
My questions:
How does Alclad II Chrome ALC107:
Take to having decals applied to it?
Take to masking?
How durable is it after cure (smudges, fingerprints, ect)
I have messed around a bit with Testors 1451 Aluminum Plate Metalizer and although its great to look at right after polishing, Its not very durable, and I had problems with getting decals to adhere, and dont even think about putting a piece of masking tape anywhere near it. So that option is out.
Any advice or forewarning would be greatly appreciated. Thanks guys, I truly appreciate this place!
Edited by xmh53wrench, 26 July 2012 - 04:11 AM.