hello again folks

Having finished my
1/18 Spitfire XIV
, I am hooked on the scale as it allows me to go nuts on detailing and get a scale effect through skinning with metal, so after a bit of deliberation I have settled on my next victim...
...you don't see many of these, in fact none in large scale (yet) and I like UK prop aircraft so I settled on the Fairey Firefly - they don't come in natural metal finishes which I like as it shows off the metalwork, so the nearest I could find is this bird a TT5 VX376 seen on 29th Feb 1956 -
Pilot: S/Lt Mike Thorne, Observer: Lt Jones, Duty: Townsville to Cairns & target towing for the 1st Frigate Squadron...
..it is near enough NMF for me, this one, sister ship VX388 is in Steve Long's care in Oz and shows the sort of anodised looking finish - it is probably paint, but either way I still think I can work with it, and if worst come to worst I will just paint it

. I may well do VX388 as you can't have better references than a real, and more importantly unrestored example..
..the first step in any project like this is good plans. I intend to scratchbuild it using traditional methods so a good outline & section plan is a must. I found some fantastic 3 views with sections by Jumpei Temma whom I trust as I used his work on my 1/24 F7F Tigercat...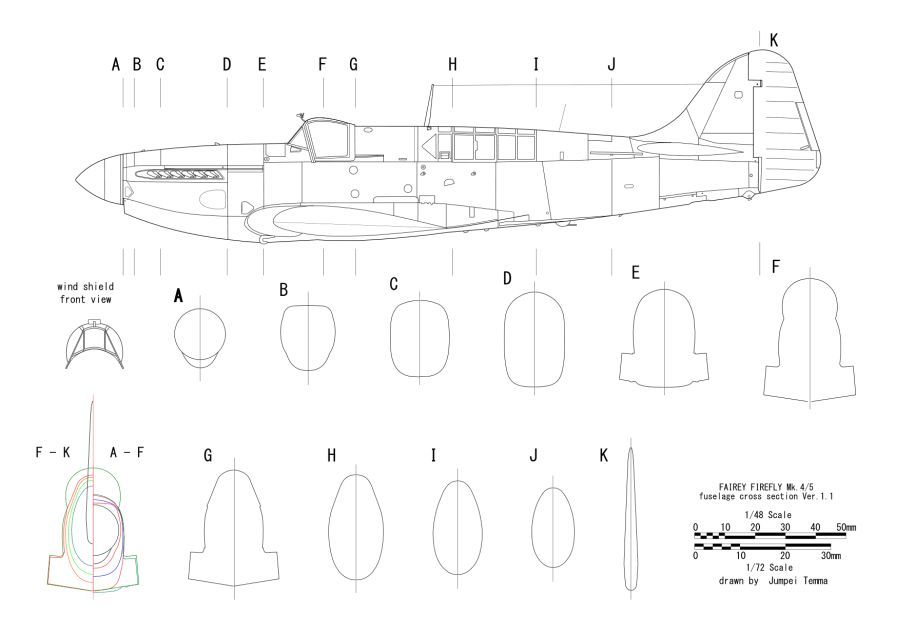 ..I had these scaled to 1/18 - here seen with my laptop - as you can see she is a big girl - 64cm span and about a third bigger than my Spit... I have two more sheets not shown that detail the undersurfaces & the fuselage & sections...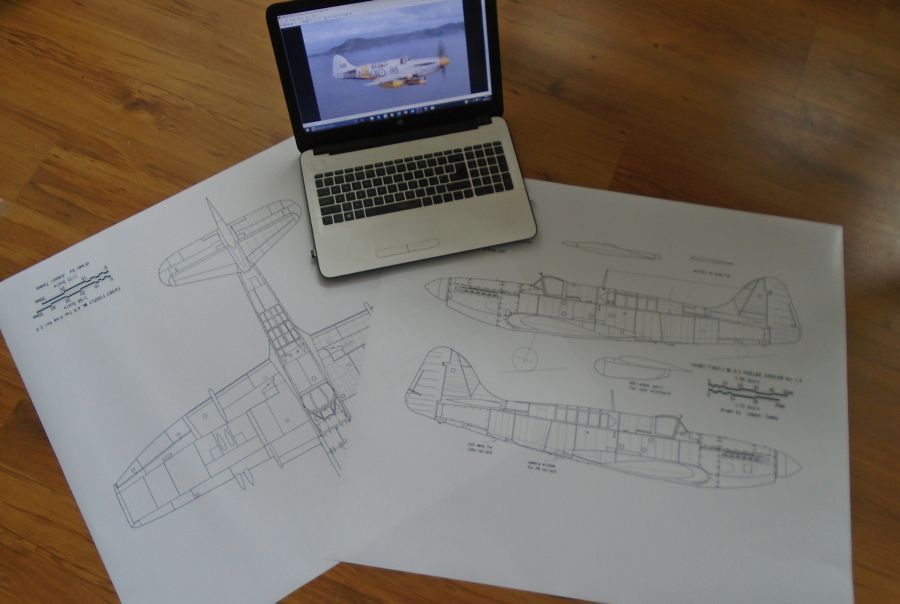 ..the next step is getting repetitive strain injury by right click & saving every image on the internet I can find - some are real quality shots like this of VX388 - I can reproduce everything you see here, but cut some corners as will be seen..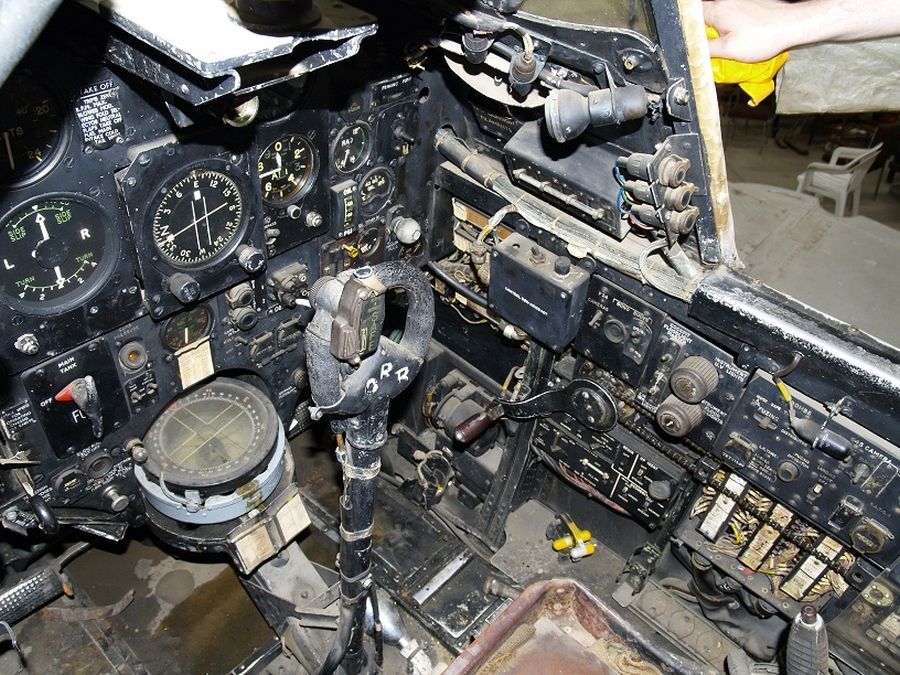 ..once references have been started I can start to work up a Photo-Etch sheet for the model - I did thsi for my Spit and F7F and it means many, many parts that would be difficult or time consuming to make can be 'drawn' in at about 5 - 10 minutes an item - some are obviously more complicated, but simple things like hatches, brackets, instruments, radiators all sorts of stuff can be made.
It just takes a bit of basic PC skills with a drawing program like CorelDraw (subscription @£22 a month, drop in & drop out whenever you need it) - I learned all I know with this and Rhino 3D modelling from Youtube videos - it really is straightforward.. making a PE fret has a couple of rules I may well do a quick tutorial on, but basically you just draw things in layers - things you want full thickness & things you want part etched - anywhere you can see through is just dissolved away. You also need to tag things to a frame so they don't just float away on theor own..
..so here is a bulkhead where I have started to trace it's outline and add detail to.. anything in blue is half etched - that is to say it disolves away half the thickness of the sheet, anything in yellow is full thickness - the metal is left untouched.. you can see I set the shapes to be transparent so I can see what is going on in the original pic - it is just like tracing...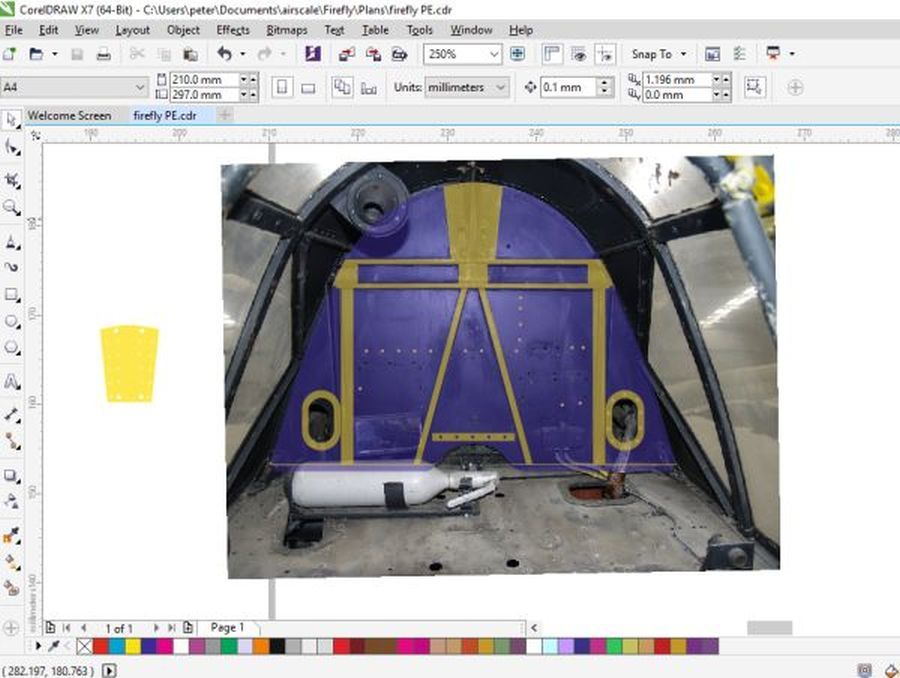 ..while this kick-off post doesn't have any actual building yet, I have spent about a week so far drawing up structures & components that will be used later on..
..for example the instrument panel - there are two as one is a backplate the detailed one fits onto, as they are copies of each other they always fit perfectly

..lots of assorted parts including throttle & prop controls, compass mount and loads of internal / external hatches & brackets..
..the Observers station - bulkheads & surrounding structure..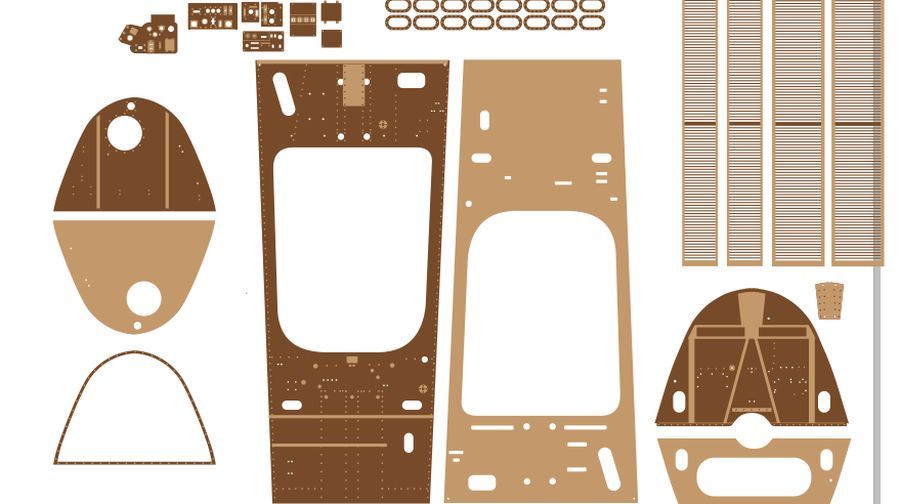 ..the pilot's bulkhead is actually three layers of structure to get the best level of base detail before all the framework is added...
..another cheat for complicated or uniform parts when scratchbuilding or converting is 3D modelling - this is a wheel from my Spitfire done on Rhino -again a 3 month trial is available with the software which is enough to learn the basics, and get a few parts done - I will likely repurpose this for the Firefly as it has four cut-outs in the middle not 3 and has block tread not diamonds, but wheels & the prop spinner are pretty straightforward parts to design using a 'revolve' surface tool..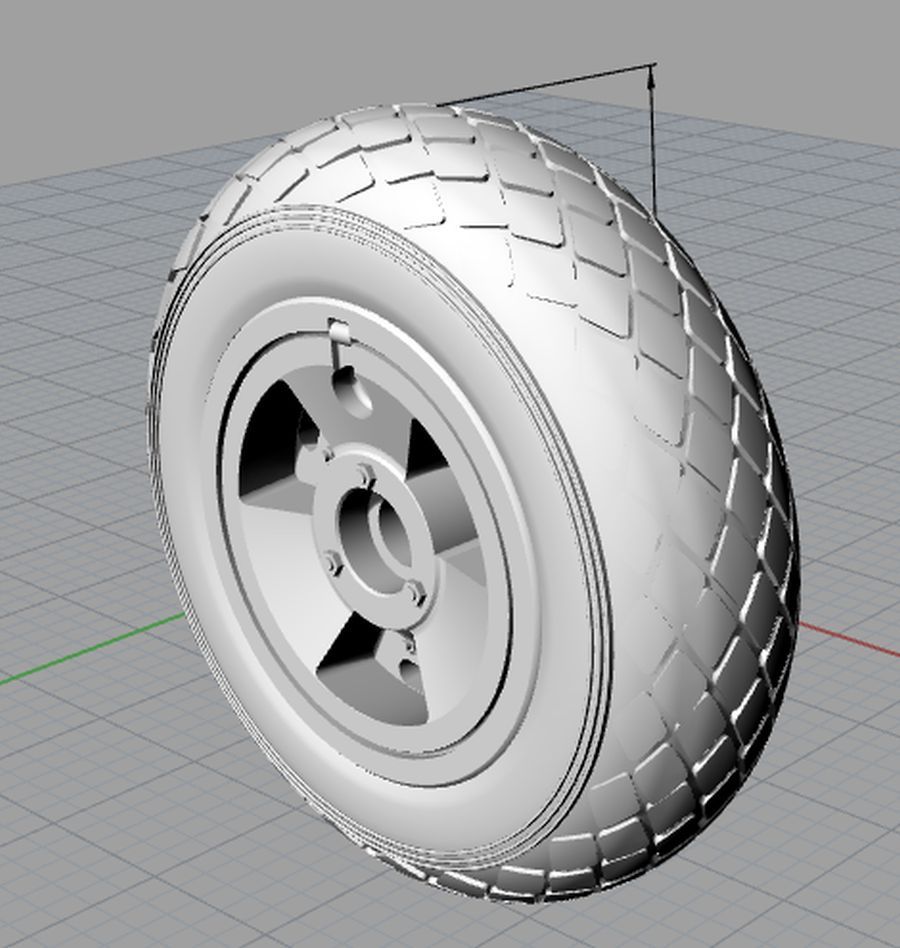 so that's it for day one - I think it's about a 2 year build and it is an aircraft I think will really have presence when completed. I am always looking for close up internal reference pics, or drawings so please, if you find anything drop it in here or PM me

I look forward to your company on the way, and while it is not as beautiful as a low back Griffon Spitfire, I hope it is engaging enough to keep us entertained

TTFN
Peter
Edited by airscale, 01 October 2017 - 07:35 PM.